Gondolier songs as the inspiration behind the romantic genre of Barcarolle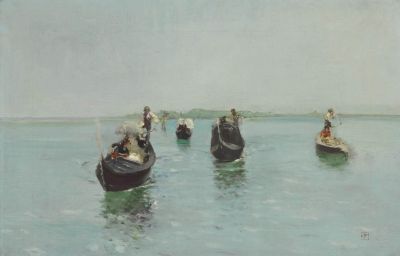 Venetian Gondoliers by Robert Frederick Blum
Composer:
Charles-Valentin Alkan, Pyotr Ilyich Tchaikovsky
Originally a Venetian gondolier's song, Barcarolle is characterized by gently rocking rhythms reminiscent of the boatman's stroke. The simplistic nature of the melody and the wistful triple meter add to the charming character of this timeless classic.
In the 18th and 19th centuries, the barcarolle inspired a considerable number of vocal and instrumental compositions, ranging from opera arias to character pieces for piano. 
Frédéric Chopin
's
Barcarolle
is possibly the best known of the inspired instrumental pieces, although other romantic composers such as
Felix Mendelssohn
and Gabriel Fauré contributed a host of similar pieces. 
Listen to magnificent Charles-Valentin Alkan's Barcarolle performed by Marc-André Hamelin:
Charles-Valentin Alkan (1813–1888) was one of the great romantic pianists. Much of his music is of surpassing difficulty, taking it way beyond the realm of the amateur and playable only by virtuosi with transcendent techniques.
Alkan was well known in intellectual circles—he counted among his friends Victor Hugo, George Sand, and Frédéric Chopin—but he was always something of an introvert and misanthrope. 
Much of Alkan's life is shrouded in mystery. This was so even when he was alive, his self-imposed isolation only adding to the fascination. When he died an obituary in Le Ménestrel opened: 
"Charles-Valentin Alkan has just died. It was necessary for him to die in order to suspect his existence."
Another excellent example of barcarolle is included in The Seasons — a set of twelve short character pieces for solo piano by Pyotr Ilyich Tchaikovsky. Each piece is the characteristic of a different month of the year in the northern hemisphere. 
The Barcarolle, dedicated to the month of June, was enormously popular and appeared in numerous arrangements for orchestra, violin, cello, clarinet, harmonium, guitar, and even mandolin.
Listen to Tchaikovsky's Barcarolle performed by Sviatoslav Richter:
The genre has not lost its relevance in our days. A great vocal example of the Barcarolle was recorded by Tom Waits.
This is music from an opera production by Waits, his wife Kathleen Brennan, and longtime collaborator avant-garde theatre director Robert Wilson, from their 1992 play Alice, which explored the relationship between Lewis Carroll and the little girl who inspired Alice in Wonderland, Alice Liddell.
Listen to Tom Waits' Barcarolle: