Gustav Holst's famous folk suite was dedicated to his students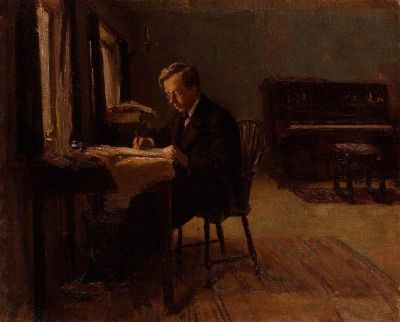 Gustav Holst by Millicent Lisle Woodforde
Gustavus Theodore von Holst, a highly original and inventive composer, was born in England in 1874. 
Holst was appointed Musical Director at St. Paul's Girls' School where a sound-proof teaching room was built for him. While teaching, Holst continued to compose in his spare time, and began to explore English and Scottish folk music. Those folk tunes started making their way into his compositions, most notably the St. Paul's Suite for string orchestra that was written for his students.
Holst's pioneering methods, rooted in rediscovery of the English vocal and choral tradition, proved to be a great influence for the musical education in many English schools. In his approach, he shared a lot of common ground with his friend 
Ralph Vaughan Williams
. It was Vaughan Williams who introduced Holst to folk songs, their earnest beauty and plainsong hymns which Holst loved dearly and paid homage to throughout his life.