Kadri Gopalnath: nadaswaram musician who canonized the Сarnatic saxophone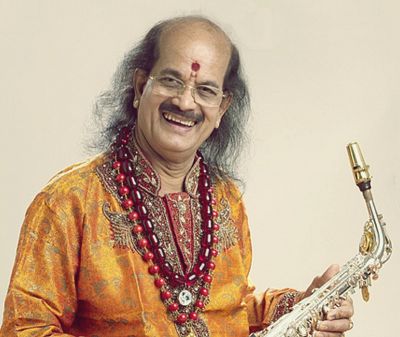 Kadri Gopalnath CD cover
Piece of Music:
Vatapi Ganapatim
Kadri Gopalnath
was a distinguished South Indian musician who introduced the
saxophone
into the classical repertoire and drew the world's jazz audience to Carnatic melodic style by performing at European and American festivals. He also enjoyed considerable success with Western classical listeners after his performance at the 1994 BBC Proms at the Royal Albert Hall, becoming the first Carnatic musician to be invited to the event.
Taught from childhood by his father to play the
nadaswaram
—an oboe-like wind instrument in the South Indian tradition—Kadri Gopalnath became fascinated by the saxophone sound when he first heard it at the Mysore Band show circa 1957. Then, he spent two decades adapting the saxophone design to follow Indian ornamented tunes as well as developing an outstanding performing technique that earned him the recognition of classical gurus.
Although saxophone arrangements of Indian classics had already been penned by
Salil Chowdhury
and the film-oriented songwriting duo
Shankar–Jaikishan
, Kadri Gopalnath certainly took the instrument to the next level by conquering the genre of Carnatic sacred songs and improvising Indian melodies in jazz-jam-like
jugalbandi
sessions.
Listen to 
Vatapi Ganapatim
, a jugalbandi performance by Kadri Gopalnath and
Narasimalu Wadvatti
:
The jugalbandi genre usually involves two solo musicians repeating and developing each other's improvisations within a melodic standard fixed by the tonal structure of a particular Indian classical raga. In the given example, Kadri Gopalnath and Narasimalu Wadvatti are engaged in musical dialogue on two Western orchestral instruments—saxophone and
clarinet
—as they improvise upon the motifs of one of the best-known
Muthuswami Dikshitar
's kriti songs, 
Vatapi Ganapatim
. The track is set in the
Hamsadhvani
raga of the Carnatic music system with a seven-tone pattern that is identical to the
Ionian
major scale that dominates Western classical and popular music.