Kishori Amonkar reclaimed her lost voice with Ayurveda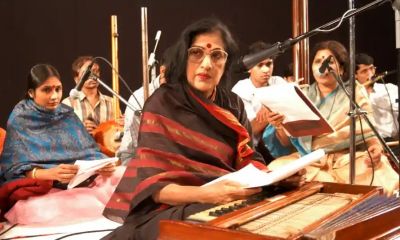 Kishori Amonkar in Mumbai, 2008
Kishori Amonkar
was one of the most respected classical vocalists of the Hindustani tradition who intensively developed the Khyal genre—short songs designed to vary the
raga
melody. Since these short pieces are repeated throughout the entire raga, the lyrics often lose their significance, turning into a kind of abstraction and contributing to the vocalization of flowery melodic passages.
To accompany her singing, Kishori Amonkar mainly used the
swarmandal
—also called Indian harp—a somewhat unusual instrument for the genre known even to Western listeners as it was recorded by
George Harrison
in several of
The Beatles
songs.
Kishori Amonkar's musical career began in the
1930s
when she started playing the
tanpura
at the age of six to accompany her mother's concerts while touring the country. At first, she learned to sing by copying her mother's techniques given that she had no opportunity to study the theoretical aspects of classical music. Subsequently, she immersed herself deeply in the subject under the guidance of prominent gurus from leading vocal schools in North India such as Jaipur, Agra, Gwalior, and Bhendibazaar gharanas.
After receiving such diverse training, Kishori Amonkar managed to form her own vocal style as early as the beginning of her solo career. And then, at the age of 25, she completely lost her voice. Neither modern medicine nor constant exercise helped her with this crisis until she met an Ayurveda practitioner who could restore her vocal capabilities.
Listen to Saheliya Sajan Ghar Aye set in Raga Durga by Kishori Amonkar:
Being a very humble person who gave all her time and energy to music, Kishori Amonkar did not like the attention of the press and rarely gave interviews. Her concert photos lack clarity as she avoided stage lighting that would interfere with her musical trance.