La Bamba: meaning and tragedy behind the best-known son jarocho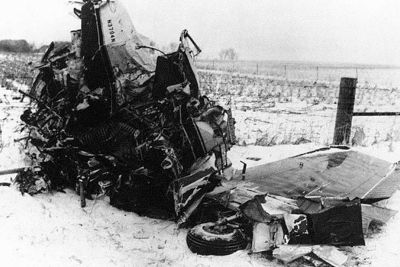 The Day the Music Died by Civil Aeronautics Board
The widely known
La Bamba
epitomizes one of the most striking examples of the ways in which an old folk tune could be popularized. According to some sources, the melody originated in the
Mexican
state of Veracruz more than 200 years ago where it traditionally accompanied the first wedding dance performed by the bride and groom.
Although the first recordings of
La Bamba
appeared in the early
1940s
, following its intense promotion by various artists in the nightclubs of Mexico City and even New York, the song gained serious fame only two decades later when the electric version of the song was recorded by the rock and roll pioneer
Ritchie Valens
.
It is noteworthy that La Bamba became the only non-English-language song on the Rolling Stone magazine's influential 500 Greatest Songs of All Time list, and Ritchie Valens himself was inducted into the Rock and Roll Hall of Fame despite his musical career having lasted only 8 months.
It was 
La Bamba
that put Ritchie Valens on
Buddy Holly
's radar who invited the newcomer to his
Winter Dance Party
tour which did not go too smoothly due to severe frosts and long bus journeys that even gave some musicians frostbite. To give the musicians more rest, Buddy Holly chartered a flight which Ritchie Valens boarded by winning a seat from the guitarist Tommy Allsup through a coin-toss. After taking off in inclement weather, the plane crashed, killing all musicians present on board, including Holly and Valens.
In the
1980s
, the life story of Ritchie Valens was filmed and the soundtrack was recorded by
Los Lobos
, sparking a new round of worldwide popularity of 
La Bamba
.
Listen to La Bamba by Los Lobos:
Combining elements of Spanish, indigenous, and African musical cultures,
La Bamba
belongs to the
son jarocho
genre
where the term
son
is given to a category of Mexican folk music while
jarocho
refers to a person, item, or music style from the port city of Veracruz.
Most likely, the song title has the same root as the Spanish word bamboleo translated as swinging or rolling.