Oye Como Va: meaning and origin of the best-known cha-cha-chá song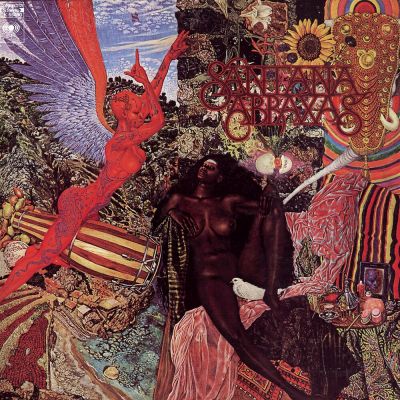 Abraxas LP cover
Oye Como Va
is one of the best-known 
cha-cha-chá
songs, owing its unfading popularity to
Carlos Santana
who recorded his influential Latin rock version in 1970. The song is so strongly associated with Santana's energetic guitar passages that hardly anyone remembers the original track written in the early
1960s
by
Tito Puente
, an American bandleader who is often revered as "The King of Latin Music".
Tito Puente clearly did not expect such overwhelming success of Oye Como Va given that it was recorded by his band as a filler for the 1962 album El Rey Bravo, so he was pleasantly surprised by the composer's royalties coming from the huge sales of Santana's rock cover.
As is often the case with 
dance
genres, the song doesn't strive for any lyrical depth, instead opting for a rhythmic repetition of just one Spanish phrase: "Oye como va mi ritmo, bueno pa 'gozar, mulata" or "Listen how my rhythm goes, it's good for enjoying".
Listen to Tito Puente's Oye Como Va performed by Santana:
Curiously, in the late
1990s
, Tito Puente recorded another version of
Oye Como Va
, which is much more reminiscent of Santana's powerful cover than his own original, at least in terms of musical form and tempo.