La Mer poem became an international hit after years of searching for a melody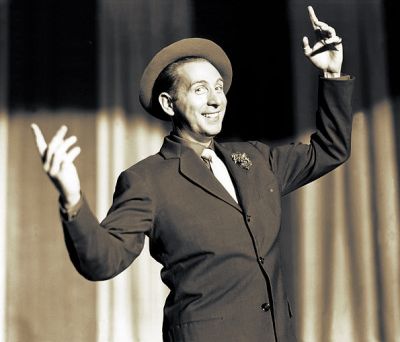 Charles Trenet LP
Charles Trenet was one of the most influential popular French songwriters in the mid-20th century. 
A performer of immense charm, with a light baritone voice, he created a style poised somewhere between light nostalgia and excited bravado that was able to endure decades of the inescapable American pop music. Trenet achieved success in every field of entertainment and shared with General de Gaulle the appellation "le grand Charles".
La Mer, the song for which he was best known outside France, was recorded more than 4,000 times—in the English version Beyond the Sea—by performers such as Bing Crosby, Frank Sinatra, and George Benson.
In 1945 the song was first recorded by the French singer Roland Gerbeau but it would achieve its hit status only a year later with Trenet's own release. The song sold more than 70 million records and has remained a chanson classic and jazz standard ever since.
Listen to La Mer in performance by the author:
Trenet said that he had written an initial version of the song's lyrics as a poem at the age of 16. The melody came to him only at age of 30 while he was traveling by train between Montpellier and Perpignan as he was gazing out of the window at the Étang de Thau, a lagoon in the south of France. He jotted tune down on a piece of paper and soon he worked out the details with his pianist Léo Chauliac.
The song has many translations into various languages including Dutch, German, Italian, and English. Despite that, the original French version is widely popular around the globe.
The English lyrics, Beyond the Sea, belong to the pop songwriter Jack Lawrence who wrote them in 1945. Trenet's French version was a homage, an ode if you will, to the changing moods of the sea, while Lawrence, by just adding one word "beyond" to the title, transformed it into a classic love song.
Listen to Frank Sinatra's cover of Beyond The Sea:
Both the French original and its adaptations to other languages featured prominently in countless films and TV shows including L.A. Story (1991) and French Kiss (1995) in which it is sung by lead actor Kevin Kline. The song was also performed in A Life Less Ordinary (1997) by Ewan McGregor and Cameron Diaz.
Since the first release, many composers wrote instrumental versions of La Mer, with the most famous covers belonging to Ray Conniff and Paul Mauriat.