Liverpool FC and the famous You'll Never Walk Alone chant in a Pink Floyd track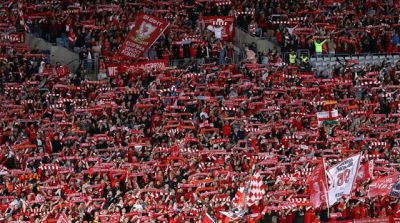 You'll Never Walk Alone is a show tune from the 1945 Rodgers and Hammerstein musical Carousel.
The song has been recorded by many artists, with notable hit versions made by Roy Hamilton,
Frank Sinatra
, Gerry and the Pacemakers, Judy Garland, Elvis Presley, Johnny Cash.
You'll Never Walk Alone is the Liverpool F.C. club's anthem and has been sung by the Anfield crowd since the early 1960s.
 
It has since gained popularity among fans of other clubs around the world. 
You will surely be impressed by the performance of the song at the Liverpool stadium Anfield that holds fifty thousand seats:
Lyrics:
When you walk through a storm
Hold your head up high
And don't be afraid of the dark
At the end of the storm
There's a golden sky
And the sweet silver song of the lark

Walk on through the wind
Walk on through the rain
Though your dreams be tossed and blown

Walk on, walk on
With hope in your heart
And you'll never walk alone
You'll never walk alone

When you walk through a storm
Hold your head up high
And don't be afraid of the dark
At the end of the storm
There's a golden sky
And the sweet silver song of the lark

Walk on through the wind
Walk on through the rain
Though your dreams be tossed and blown

Walk on, walk on
With hope in your heart
And you'll never walk alone
You'll never walk
You'll never walk
You'll never walk alone
Progressive rock group
Pink Floyd
took a recording by the Liverpool Kop choir and "interpolated" it into their own song,
Fearless
, on their 1971 album Meddle: