Lully's Passacaglia of Armide revised by Bear McCreary in Outlander score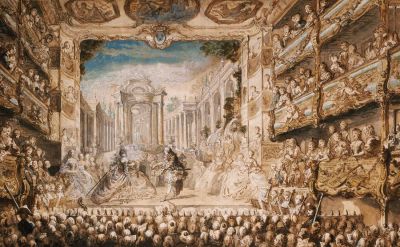 Armide at the Palais-Royal Opera House by Gabriel de Saint-Aubin
The
passacaglia
is a slow dance that originated in 
Spain
at the very beginning of the
Baroque era
, initially performed a street song during the departure of guests from celebrations. Following this tradition, Spanish 
pasacalle
was formed as a minor solemn piece usually accompanied by strummed
guitar
chords.
Along with the spread of guitar music, the passacaglia became fashionable in
Italy
and
France
, where at the turn of the 18th century, famous opera composers wrote it into their dance scenes and
interludes
.
One of the main masterpieces of the French
passacaille
was composed by
Jean-Baptiste Lully
who spent most of his life working in the court of Louis XIV of France. In 1686, by order of the king, one of Lully's most significant operas was produced to tell of the relationship between the knight Renaud and the magician Armide. Unable to charm the knight, Armide summoned his love solely with the help of a spell, but it did not last long and the sorceress destroyed her palace in anger and left the ruins on a winged chariot. The
passacaille
sounds in the fifth act just before its climax and accompanies the dance of the spirits that calm the knight during Armide's absence.
Listen to Passacaille from Armide performed by Sigiswald Kuijken with La Petite Bande using period instruments:
In 2016, the piece received the attention of a much wider audience than the operatic genre typically garners today thanks to the release of
Not in Scotland Anymore
, the second season of the popular TV series
Outlander
, which covers historical events that took place in France during the Baroque period. Lully's
Passacaglia
appears on
Bear McCreary
's soundtrack in a slightly revised form under the title
Into Paris
.
Listen to Into Paris by Bear McCreary:
According to Bear McCreary, he was not very familiar with French Baroque styles and studied this era closely, focusing on the works of Lully whose fate also resonates with the plot as he was not French by birth but had a huge impact on the country's culture.