SONGWRITER
Maybellene: Chuck Berry changed the lyrics of his first hit while recording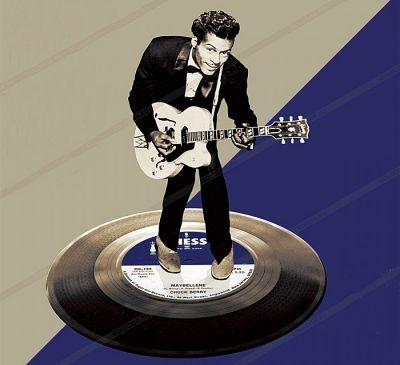 Chuck Berry The Singles Collection LP
Maybellene is Chuck Berry's debut single that could be viewed as a marker of the beginning of the rock-and-roll era. Recorded in May 1955, the song immediately became a radio hit and sold over a million copies by the end of the year.
It was
Muddy Waters
who, after one of his Chicago concerts, advised Berry to contact Chess Records to make the first recording. The performance was on Friday and Berry, who had come to Chicago specifically to see his idol, stayed in the city until Monday to persuade Leonard Chess to arrange an audition. The latter was quite impressed with Berry's self-confidence and set a date for the recording session as early as next week.
Of the four songs presented by the Chuck Berry trio during the recording session, Leonard Chess decided to produce Ida May inspired by a traditional American song Ida Red, greatly surprising Berry who pinned his hopes on his blues songs. Chess expanded the band to a quintet with bass and maracas to provide a bigger beat and thought about changing the song title along with some lines in the lyrics as he felt Ida May would evoke rural associations.
The guys did not puzzle too long over this task and took the name from a box of mascara that caught their eye but changed the spelling to avoid copyright claims from the brand. Indeed, Maybellene and Ida May not only have the same number of syllables but are sung in a very similar manner.
Listen to Maybellene by Chuck Berry:
The actual recording of the future rock-and-roll icon was not an easy walk as the arrangement and lyrics were constantly changing which resulted in a total of thirty-six takes. Leonard Chess granted some of Maybellene's copyright to the disc jockey Alan Freed in exchange for promoting the song on air, which he did so well that by the end of the first day of broadcasts, Chess Records was swarmed by calls requesting thousands of records.