Rollin' and Tumblin' as the essence of slide guitar technique combined with lyrics diversity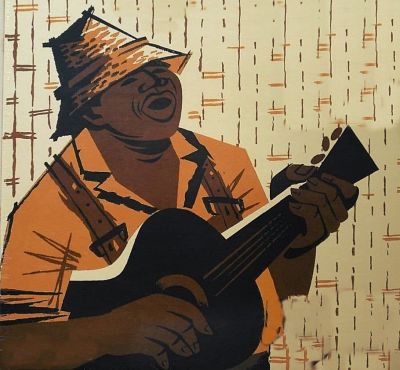 Muddy Waters LP
Rollin' and Tumblin'
is one of the great Delta blues songs that has been interpreted by many
blues
artists long before the recording era. Predominantly performed using
slide guitar
technique, the song has no established lyrics except for the title which is varied in the first stanza, so each performer usually adds their own storyline.
For the first time, the song titled Roll and Tumble Blues was recorded by Hambone Willie Newbern in 1929. Little is known about this musician other than the song being a part of his only recording session and his hailing from Haywood County, Tennessee. Although the track was credited to Newbern, researchers believe that the song's harmony was a common standard of the blues movement at the time and long before it.
Over the decades, hundreds of blues musicians have set their lyrics to this melody turning the
Rollin 'and Tumblin'
harmonic sequence into one of the most famous blues standards. Indeed, the melody and chord chain is easily recognizable in
If I Had Possession over Judgment Day
by
Robert Johnson
,
Banty Rooster Blues
by
Charlie Patton
, and
Rollin' Blues
by
John Lee Hooker
, but it was
Rollin' And Tumblin'
version by
Muddy Waters
that went beyond the blues audiences' scope.
In this 1950 recording, Muddy Waters showcases expressive slide guitar playing while completely rewriting the original lyrics, leaving the only references to Newbern's version in the first two lines of the song:
Since the
1960s
,
Rollin' and Tumblin'
has been attracting the attention of rock musicians on both sides of the Atlantic and has seen many reworked versions made by influential musicians and bands, including
The Yardbirds
,
Cream
,
Fleetwood Mac
,
Grateful Dead
, and Captain Beefheart.
A very energetic take on the song was done by none other than
Jeff Beck
for his 2000 album
You Had it Coming
in which he paired the double-stop electric-guitar slide technique with sensual female vocals echoning Muddy Waters' lyrics:
It looks like
Bob Dylan
 remains to be the champion lyricist for
Rollin' and Tumblin'
as his version of the song counts eleven stanzas of which only the first two lines quote Newbern's original line, "I rolled and I tumbled, I cried the whole night long".