Monnette Sudler: the first lady of jazz guitar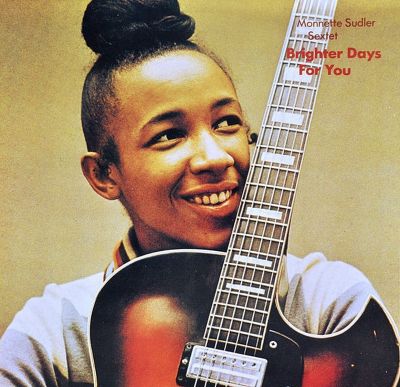 Monnette Sudler LP
Grammy-nominated jazz guitarist Monnette Sudler is known as the "First Lady of Jazz Guitar," among other titles. 
Her first encounter with jazz was listening to her uncle play piano. Exposed to blues, folk, rock, and jazz at an early age, her influences include Paul Simon, Joni Mitchell, Wes Montgomery,
John Coltrane
, and
Miles Davis
, to name a few.
Sudler started on the piano, but, when she picked up the guitar at 15, she never looked back:
"As a child my mother never wanted me to play the guitar and admittedly blocked me from my desire to learn. She loved music but she did not want me to become a rock and roll guitarist."
Earlier in her career, beginning in the 1970s, she hit the mark with several outstanding recordings as a bandleader. Her success has often been permeated with tragic circumstances, including a rare and debilitating lung disease from which she is now recovering.
Listen to To Be Exposed by Monnette Sudler Sextet recorded in 1978:
Sudler says the guitar feels less like an instrument and more like a part of her body:
"I'm supposed to hold it, and it's really just an extension of myself now. Whatever I'm trying to convey — if it's excitement, or if it's love or blues, happy times or gratefulness — I believe I convey that."
Sudler also plays bass, drums and a variety of African string and percussion instruments and has been enlisted to score and arrange for a variety of music ensembles:
"I love music. It makes me very happy. I like sharing and inspiring people. I have been able to travel the world, meet wonderful people, collaborate with outstanding musicians and writers."
Listen to Sudler's
Cool Blues
 from 2011 Philadelphia Guitar Summit on
SoundCloud
.