Adrian Belew's spellbinding guitar tricks saturate prog music with the sounds of space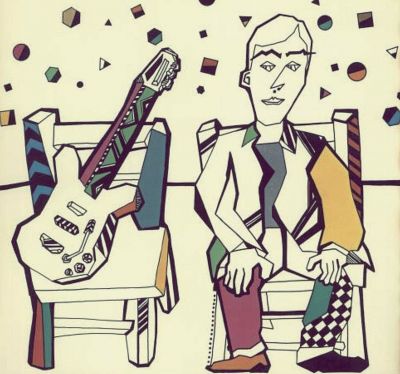 Adrian Belew's Twang Bar King LP
American multi-instrumentalist and songwriter 
Adrian Belew
managed to extract entirely extraordinary sounds from his guitar even before the invention of guitar synthesizers which would later become a trend not without his significant contribution. During his nearly 50-year long career, he generated an easily recognizable and stylistically unique soundscape, taking part in the most progressive projects of the century including Talking Heads,
King Crimson
, Nine Inch Nails and other ventures headed by 
Frank Zappa
and 
David Bowie
.
Primarily self-taught, Belew developed his guitar skills by studying records of gifted guitarists of his time such as
Jimi Hendrix
and
Jeff Beck
. At one of his small club concerts in the late 
1970s
, Belew had a lucky accident of being noticed by Frank Zappa who was so impressed by an atypical guitar technique that he invited Belew to audition as a rhythm guitarist on Zappa's tour.
After a year of touring with Zappa as both guitarist and vocalist, Belew referred to this time as the most educational period of his career:
"[That year] put in my head all the knowledge I needed for making a career as a recording artist, and as a traveling musician (...) Working with Frank marked my first travels around the world, first record, first movie, all in one year. It was a big crash course, very important for me, and Frank was super generous to me.
Watch Belew sing City Of Tiny Lites at Zappa's 1977 concert:
At the end of the first big tour with Zappa, Belew received an offer from David Bowie to become his lead guitarist on the upcoming 1978 Isolar II tour. Here, Bellew's performing technique drew some real attention; after all, the out-of-this-world sound of his guitar embued Bowie's Starman concept with the sensations of interstellar flight.
Belew was star-struck by Bowie:
"I have to say being cast right on the same stage beside a superstar like David was really unbelievable. It was a stratosphere that I never imagined myself being in, socially and otherwise."
Watch David Bowie perform Heroes with Adrian Belew on lead guitar and back vocals:
The next monumental experience for Belew was the concert and studio collaborations with the iconic 
Talking Heads
 whose members were reportedly stunned by his rendition of their hit
Psycho Killer
. The relations inside the band were particularly tense at the time, so at some point Belew was secretly asked to replace frontman
David Byrne
, an offer which Belew politely turned down.
Watch Talking Heads perform Psycho Killer in Rome in 1980: 
Soon after his major-scale takeoff, Belew landed a position with
King Crimson
 which he would keep for several generations and become the first vocalist in the band's history to write his own lyrics.
In the 1980s, King Crimson managed to keep their progressive consciousness relevant by adding an unprecedented groove of fast dancing rhythms. Performing the role of frontman to the fullest, Belew constantly danced on stage while a respectably dressed Robert Fripp performed musical figures holding his guitar in a classical position with a footstool.
Listen to Thela Hun Ginjeet performed by King Crimson in 1984:
During the first contracts and breaks in his King Crimson activity, Belew engaged in solo projects, tirelessly experimenting with guitar synthesizers and effect processors and challenging guitars to mimic industrial sounds, animal voices, and
bird songs
.
Even though Belew lent his talent for major projects throughout the years, it was his work with King Crimson that marked the most influential years in his long career of combining songwriting with guitar design and music production that continues to this day.
Watch Adrian Belew's acoustic version of Three Of A Perfect Pair: