Neverending musical whirlpool at the sacred oasis of Pushkar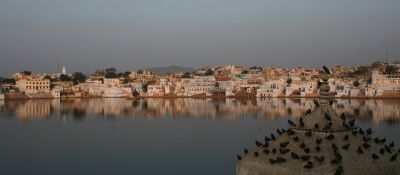 Pushkar Holy Lake in the Early Morning by Childed
Piece of Music:
Shiva Tandava Stotram
Bordering with the Thar Desert, Pushkar town is set on Pushkar Holy Lake, a revered site for many Hindu followers. 
According to the local beliefs, a holy dip here is worth washing away 100 years of sins. It's a prominent pilgrimage town which devout Hindus should visit at least once in their lifetime. 
The name Pushkar in Sanskrit means "blue lotus" and the oasis is said to have appeared when Brahma dropped a lotus flower. It also has one of the world's few Brahma temples and over 400 milky-blue temples; the town often hums with prayers, generating an endless soundtrack of chanting, drums and gongs, and devotional songs.
Sunset in Pushkar, Rajasthan by Dr. Glazunov
: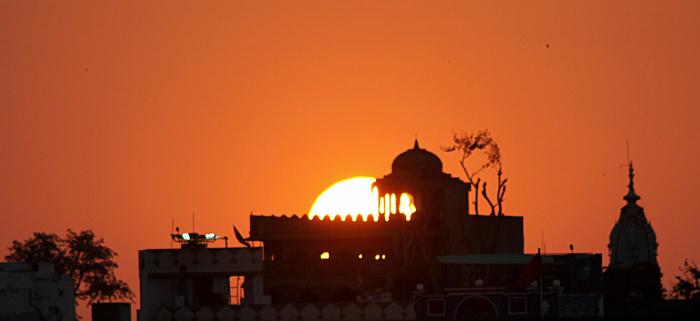 During the year, a huge number of music festivals is held here which gathers colorful crowds of fans from all over India. Here is an incomplete list of these events: Diwali Festival, Holi Festival, Kite Festival, Ganesh Festival, Gangor, Teej, Savan Festival, Rainy Fairs, Dashera and Sacred Pushkar.
Watch Shiva Tandava Stotram performed by Vikku Vinayakram and his sons, regular participants of Indian festivals, a representative of the Carnatic Classical Music:
Vikku Vinayakram is a world-renowned Indian percussionist who is credited with popularizing the ghatam. He is the recipient of many awards including a Grammy Award which makes him the first and only winner for South Indian classical music. 
Shiva Tandava Stotram (शिव तांडव स्तोत्रम) is a Hindu hymn that embodies God Shiva's power and beauty through epithets describing Shiva as a destroyer, even the destroyer of death itself.