Obscured by Vivaldi, an Italian virtuoso found fans in England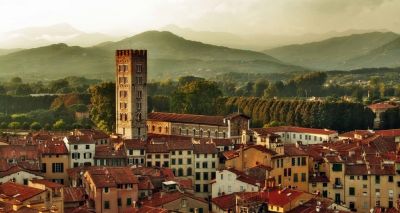 Lucca, Italy
Composer:
Francesco Saverio Geminiani
Francesco Saverio Geminiani—influential Italian violinist, composer, and theorist—was born in 1687 in the scenic town of Lucca which happens to be the birthplace of many composers including Giacomo Puccini, Luigi Boccherini, and Alfredo Catalani.
Geminiani, a student of
Alessandro Scarlatti
and
Arcangelo Corelli
, expanded the art of violin playing to a level previously thought unattainable. Many of the techniques he introduced are now an important part of any violinist's skill. 
Likewise, his practical texts inspired numerous followers. Geminiani's most important manuscript, The Art of Playing on the Violin, was the first instruction manual addressed to advanced players from a professional viewpoint, as opposed to a primer for beginners. He published a number of other treatises on harmony, harpsichord accompaniment, guitar playing, and further aspects of violin technique.
During Geminiani's Italian period, he was overshadowed by the great
Antonio Vivaldi
and thus condemned to little to no success in his native country.
But in 1714, his career took a sharp turn upward when he moved to London. He was quickly met with acclaim as a virtuoso performer and soon earned an ongoing support from several influential patrons.
As a composer, Geminiani followed Corelli's forms in his numerous sonatas and concertos, but his music is harmonically richer and substantially more difficult to play than the works of his teacher. Geminiani's perfect pair of concerti grossi was received with extreme success in England, holding a place in the repertory well into the next century. 
Here is Geminiani's brilliant Concerto Grosso in E Minor performed by Europa Galante: