Muskrat Love: the polarizing song of America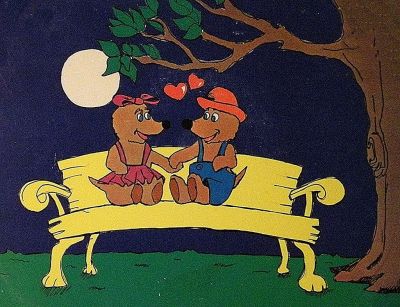 Muskrat Love by T.E.J. Records
Muskrat Love
is a sweet and slightly strange song about a romantic relationship between two anthropomorphic muskrats, written by American folk musician
Willis Alan Ramsey
for his only album released in 1972. The song gained notable popularity in the
1970s
 largely due to covers by the rock band
America
and pop music duo
Captain & Tennille
.
As noted by Gerry Beckley, America's vocalist, Muskrat Love was a point of contention between the fans and how they perceived the song: some fans regretted that the song was not a part of the band's set, while others expressed gratitude for the lack of this song in the show.
America's version of the song follows the harmony, tempo, and mood of Willis Alan Ramsey's original recording very closely. The band added polyphonic vocal lines and expanded the arrangement well while leaving the recognizable acoustic guitar riff unchanged. Although America's label Warner Bros was reluctant to release the song as a single, the band insisted on it and Muskrat Love hit the radio.
Listen to Muskrat Love by America:
Curiously, Willis Alan Ramsey's self-titled album was considered groundbreaking and progressive, an excellent beginning of the successful career ahead of him. Unfortunately, the album remained his only work, supposedly caused by some conflicts with his label, Shelter. Ramsey is regularly asked about the release of his second album to which he usually replies, "What's wrong with the first one?"