Peter Sinfield: the songwriter whose lyrics embellished the formative prog rock albums of the 1970s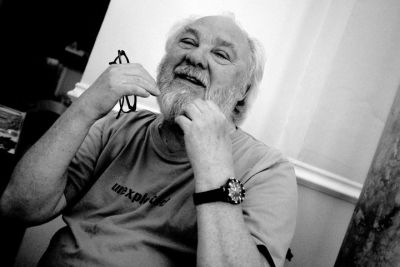 Peter Sinfield by Gianni Ansaldi
Peter Sinfield
is an iconic songwriter who has written for most influential albums of the prog-rock genre released during the
1970s
. After some experience with his own band, Sinfield became one of the founders of the
King Crimson
's first incarnation with whom he produced four albums and which gave him a later push to join 
Emerson, Lake & Palmer
as a lyricist.
After the release of his solo album in 1973, Peter Sinfield abandoned his career as a vocalist and, once the era of prog-rock as a relatively mainstream phenomenon came to a close, began writing songs for pop musicians in collaboration with composer Andy Hill.
It was Peter Sinfield who coined the name "King Crimson" which had its roots in the historical tradition of branding any bloodshed monarch as a "crimson king" but, in the case of the newly formed band, explicitly alluded to the worldwide opposition to the military involvement of the United States in Southeast Asia. Since Sinfield's vocals and guitar technique were quite amateurish, he focused mainly on writing lyrics, creating album design, supervising light direction at the concerts, and overseeing other details of the band's releases.
Here is how Sinfield ironically surmises his role in King Crimson:
"I became their pet hippie, because I could tell them where to go to buy the funny clothes that they saw everyone wearing."
Having written mostly fantasy-inspired lyrics for the first four albums of the band including In the Court of the Crimson King, In the Wake of Poseidon, Lizard, and Islands, Sinfield was forced to leave King Krimson due to the increasingly strained relationship with Robert Fripp. It was during the Lizard recording that Sinfield's influence reached its peak since Fripp became involved with other projects, leaving Sinfield in charge of the final cut as well as album design.
Listen to King Crimson's Prince Rupert Awakes from 1970 Lizard:
After King Crimson, Sinfield began writing lyrics and producing several projects at once, including the debut album of Roxy Music and the third album of the Italian prog-rock band Premiata Forneria Marconi. He also released his only solo album Still which united numerous former and future Crimson members. While working on Still, Sinfield received an offer to join Emerson, Lake & Palmer to provide lyrics for their subsequent releases.
Listen to ELP's Karn Evil 9 3rd Impression with lyrics credited to Greg Lake and Peter Sinfield:
In the
1980s
and
1990s
, Sinfield worked with a dozen artists including Leo Sayer and
Celine Dion
whose song
Think Twice
, created in collaboration with Andy Hill, featured Sinfield's lyrics and became a massive hit.