Ravi Shankar and Philip Glass find a colorful meeting point for European and Indian classics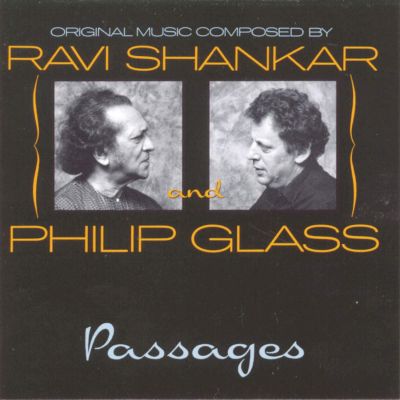 Ravi Shankar and Philip Glass LP
Piece of Misic:
Ragas In Minor Scale
Almost three decades have passed since
Philip Glass
and
Ravi Shankar
collaborated and released the work
Passages
 - a fantastic combination of classical Indian and Western music. It is a hypnotizing work, not only for the listeners but for the musicians performing it.
Ravi Shankar, born Ravindra Shankar Chowdhury, brought a new understanding of Indian sound to the West and influenced generations of musicians around the world.
Beginning in the 1960s, his live performances with the violinist Yehudi Menuhin and his collaboration with George Harrison, lead guitarist of the Beatles, helped bring Indian music to the attention of the West. Among the diverse musicians influenced by Shankar's compositional style were the jazz saxophonist John Coltrane and the composer Philip Glass. 
Philip Glass took it upon himself to explore the Indian subcontinent in the '60, and he became enchanted by the freedom of Indian music. Its beat patterns, structures, rhythm and connectivity to meditative states affected Glass highly.
"There was a film score called 'Chappaqua', which I was hired to notate. That would've been in 1964 or 65. Meeting Ravi was just blind luck (...) you have to remember, this is before The Beatles had met Ravi, so he was pretty much unknown in the West. And this music would've been very exotic, at that time. Which, now, it doesn't seem exotic at all. But in the '60s, this was the first time this kind of music had been heard. At least in the West. Of course, a very big tradition in the East."
Listen to the Ragas In Minor Scale from Passages: