Sommernacht poem found its composer in a Swiss romantic after a century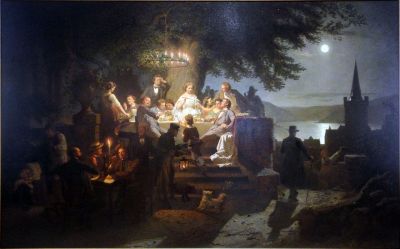 Sommernacht am Rhein by Christian Boettcher
Othmar Schoeck (1886-1957) was a remarkable Swiss composer during the first half of the twentieth century. In contrast to the more dissonant style pursued by contemporaries, Schoeck is known for his essentially tonal music and his attention to melodic values, rather than dissonant effects.
His father was a landscape painter, and as a young man, Othmar seriously considered following in his father's footsteps and even attended classes at an art school in Zürich before dropping out to go to the Zürich Conservatory.
Schoeck remained in Switzerland throughout his career, where he was regarded as the country's foremost musician and composer. 
Stylistically Schoeck's clearly tonal works involve some careful and effective use of dissonance. His strong anchoring in traditional harmony and conventional forms made his music more accessible to the general public. 
Listen to Sommernacht performed by Howard Griffiths and English Chamber Orchestra:
In 1945, the Bern Music Society commissioned Schoeck for a new orchestral work for the upcoming winter concert season. Schoeck replied in a non-committal fashion, pointing out his precarious state of health and refusing to say either yes or no. 
Soon after his daughter Gisela came home from school, full of enthusiasm for a poem they had just read there: Sommernacht (A Summer's Night) by Gottfried Keller. Schoeck knew the poem already, as he had wanted to set it to music for his Keller cycle Unter Sternen. Thus he decided to make the poem the basis for his new orchestral work. 
The result was a tone poem for string orchestra with the same title. He finished it in July at the Weidhof.