The Third Norfolk Rhapsody, lost a hundred years ago, was reconstructed recently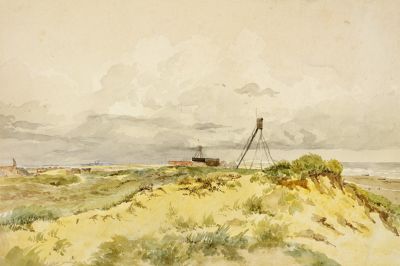 Winterton, Norfolk: Sandhills on the Coast by James Stark
Composer:
Vaughan Williams
Vaughan Williams composed three Norfolk Rhapsodies in 1905 and 1906, shaping them on folk melodies he had gathered around the Wash. However, only the First Rhapsody has remained in the repertory. The score of Norfolk Rhapsody No 3 was destroyed and is now lost.
Contemporary composer David Matthews was commissioned by the Ralph Vaughan Williams Society to create a new piece based on programme note for the lost third rhapsody. 
David wrote:
The manuscript was lost but I have used the four songs mentioned in the programme note The Lincolnshire Farmer, John Raeburn, Pirate, and The Red Barn to reconstruct what Vaughan Williams alludes to in his description.
Thus written again Norfolk March was premiered at the English Music Festival in 2016.
Ralph Vaughan Williams's
Second Norfolk Rhapsody
by the
Richard Hickox
with the LSO: