Only 3 Mantras survived from Sanskrit opera Avatara by John Foulds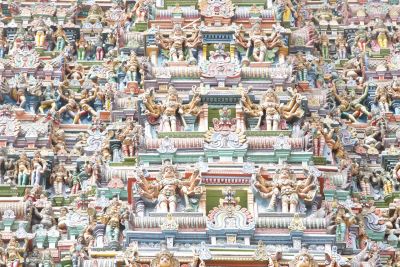 Meenakshi Amman Temple in Madurai by Dr. Glazunov
One of the greatest areas of music history still remaining largely uncharted is the influence of Indian philosophy on the creative development of Western culture and music.
First attempts to connect Eastern and Western philosophies through music were undertaken by composers during the Baroque era, but it wasn't until the early 20th century when the first symbiotic works of this nature were created.
The most prominent figure to move along this narrative was an English music innovator
John Foulds
. Initially a composer with a style fairly close to those of
Vaughan Williams
,
George Butterworth
, and
Gustav Holst
, he soon began deviating and developed an interest in Indian classical music and Eastern philosophy. 
Foulds moved to India where he became the head of the European Music Department on All Indian radio, but sadly his life was cut short by cholera and most of his music written in India has been lost.
Listen to Three Mantras performed by Barry Wordsworth with London Philharmonic Orchestra:

One of the most intriguing works in Foulds' output was his three-act opera Avatara the score of which unfortunately disappeared along with the libretto. His concept of weaving Indian motifs into Western classical harmonies can be appreciated by listening to his three surviving preludes Apsara Mantra, Gandharva Mantra, and Rakshasa Mantra.