Yemeni folk melodies interpolated into psychedelic dance rhythms by El Khat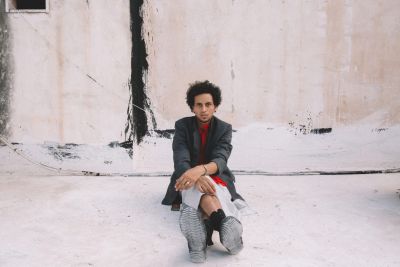 Eyal El Wahab
The musical traditions of Yemen can be traced back to the 14th century in the form of homayni which meaning can be translated to sung poetry. The custom, that has survived to this day, involves a musical performance in a window-lined room at the top of the house accompanied by the practice of chewing khat tree leaves that are said to cause a soft psychedelic effect that contributes to the perception of the poetic and trans-like singing.
Although Yemeni musicians use instruments common in the music tradition of the Arabian Peninsula, such as
oud
 or gasba flute, music in Yemen exists mainly in vocal form, largely due to religious prohibitions limiting the playing of musical instruments.
Perhaps due to restrictions on the use of musical instruments, the Tel Aviv-based cellist Eyal El Wahab chose a very unusual orchestration for the new project El Khat which he launched in his desire to explore his Yemenite roots. 
For the recording of their debut album Saadia Jefferson, El Wahab assembled a myriad of instruments out of junk including a percussion set made from an olive oil canister, tomato cans, bicycle wheels, and a rusty barbecue. He recreated the cello from a saucepan, a broken shelf, and a rope, while the bass banjo was constructed with a steel bowl lashed together with string and nails.
Listen to Balagh Al Achbaab by El Khat:
In addition to such a magnificent selection of newly invented musical instruments, the album also contains the more familiar sounds of trumpets,
electric guitar
s
, and electronic organs, laying down the base of Western harmony canon to serve the melodies and lyrics of Yemeni folk songs. The overall style of the album can be described as a psychedelic dance stirring a riot of style and expression, centering itself on the cultural crossroads with its mix of Yemeni musical tradition, East African rhythms, and melodic influences of the Arab Peninsula.