Review
The 2020 guide to research of Granville Bantock's life and music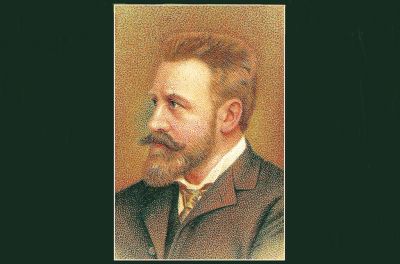 Granville Bantock
Published by
Clemson University Press
in 2020,
Granville Bantock (1868–1946) A Guide to Research
by Dr. John C. Dressler is the most comprehensive and up-to-date collection of references to the works of this neglected but extraordinary composer whose vast legacy has been intensively revisited in recent decades.
A Guide to Research
is compiled as a reference book where detailed information on various aspects of
Granville Bantock
's work and life is grouped into three sections:
catalog of works
,
discography
, and
bibliography
.
For Dr. John C. Dressler, Professor Emeritus of Horn and Musicology, this book is far from the first study of a 20th-century British composer: he is also the author of the highly respected bio-bibliographies of 
Gerald Finzi
, Alan Rawsthorne, and William Alwyn. Having begun his research into Bantock in 2012, Dressler has worked with hundreds of people around the globe as evidenced by the book's massive acknowledgment list.
A Guide to Research is preceded by three introductory chapters of Preface, Acknowledgments, and Biographical Sketch that briefly acquaint the reader with Bantock's talents and merits as a composer, arranger, editor, and world traveler but also touches upon his interests and inclinations in various periods of his life.
The most voluminous section of the book, titled
Works and Performances
, is a list of Bantock's compositions structured by
genre
, and for many of them, Dressler lists
premieres
,
selected performances
, and
derived works
. Whenever possible, the author indicates the composer's notes, date of completion, dedication, publisher, instrumentation, and manuscript location.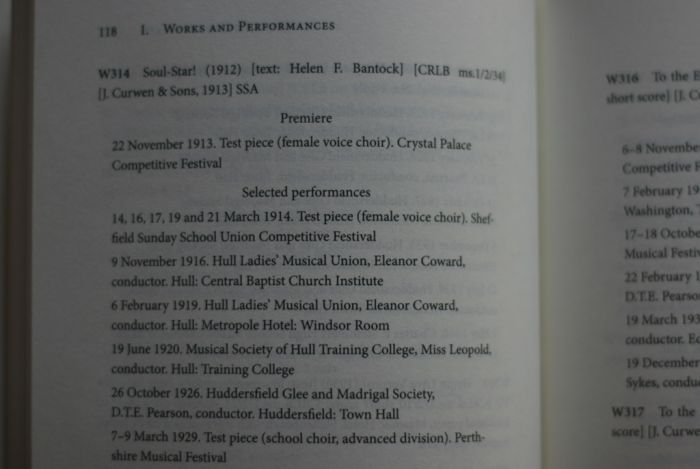 Dressler notes that this catalog of Bantock's works cannot be considered truly complete due to the limitations of the book's format and his desire to go into more detail with the most important compositions.
The detailed Discography section references 174 commercial recordings, including those currently unavailable, as well as 86 archival recordings stored primarily in the British Library Sound Archive. Each entry is provided with full information regarding its publication such as record labels, release dates, performers, and annotations. Archival recordings come with educational instructions, media types, and other remarks.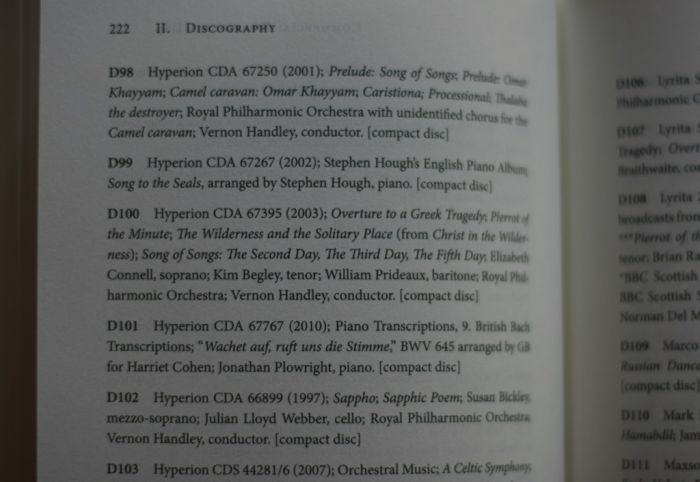 The Selected Bibliography section is divided into twelve subsections such as General References, Writings by Granville Bantock, Dissertations, and Files with source references to different archives. The Bibliography contains a wide variety of references to correspondence, reviews of the compositions or performances, and analytical materials. It is organized alphabetically and appended with all the necessary data to facilitate easy navigation required for more detailed research and possible publication.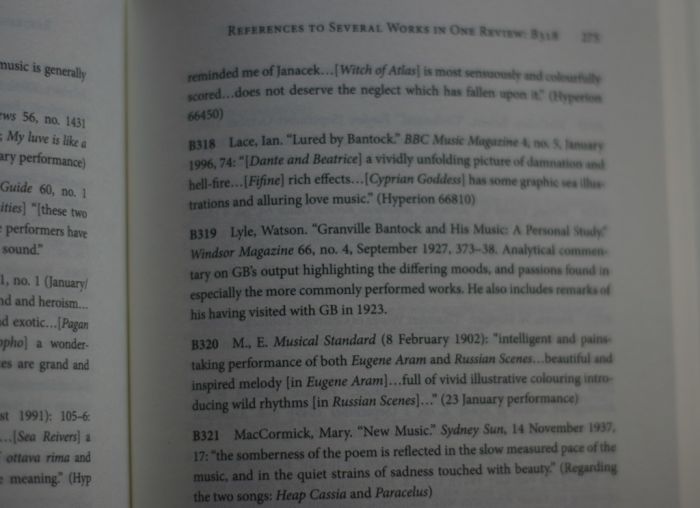 The last chapter of A Guide to Research is the Index arranged to grant easy navigation. The chapter lists individuals mentioned in this volume including composers, performers, and conductors as well as the title of each of Bantock's compositions.
When summarizing the multifaceted information that fills four hundred pages of Dressler's Granville Bantock (1868–1946) A Guide to Research, it becomes absolutely clear that the book is an excellently structured source that fully covers Bantock's output at all periods of his career. Such a detailed volume will be truly indispensable for the publishing of scores or archival recordings, researching the composer's life, and undoubtedly, will be in great demand in educational institutions. In other words, Dressler's book could rightfully be called the key to a deeper understanding of Bantock's music and the further popularization of such a significant figure in the 20th-century British culture.