The multicultural heritage of Granville Bantock from Celtic folk music to Eastern philosophy of Omar Khayyám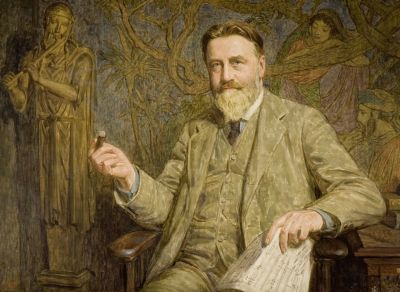 Granville Bantock was one of the most cheerful English composers whose rich heritage comprised more than 800 works which were very rarely performed after his death. His broad outlook stimulated him to create music based on the history of world cultures from Eastern to Celtic.
Despite the fact that Granville Bantock's creative period fell on the first half of the 20th century, he did not share much passion for modernism and remained faithful to the classical methods of composition.
Born in 1868 in London into the wealthy family of an eminent Scottish surgeon, Granville Bantock showed little interest in music as a child, even constantly skipping piano lessons. The situation changed at the age of 20 when Bantock began studying musical manuscripts at South Kensington Museum Library after realizing that the engineering career did not attract him at all, the choice that ultimately led him to enroll in the Royal Academy of Music.
Bantoсk's first experience as a composer was associated with writing a few of music hall songs when he and his brother joined the comedy troupe to perform around the world. Subsequently, along with composing, he established himself as a conductor of the Liverpool Orchestral Society and the New Brighton Tower concerts, successfully promoting the works of his outstanding contemporaries including
Hubert Parry
,
Edward Elgar
, and especially
Jean Sibelius
who dedicated his third symphony to Bantock in gratitude for his support.
Granville Bantock dressed up as a Chinese conjuror for one of the family's annual Christmas pantos
: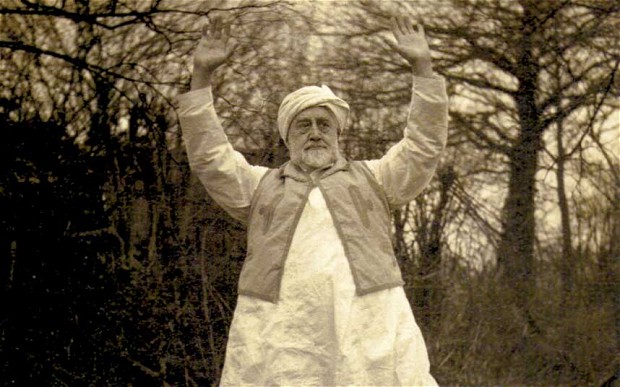 By the beginning of the 20th century, Bantoсk settled in Birmingham where he spent most of his life occupying posts of the Principal of the Birmingham and Midland Institute School of Music and the Peyton Professor of Music at Birmingham University. It is believed that Bantock succeeded in reforming the curriculum of these musical institutions by introducing modern methods of composition as well as expanding the minds of students with the musical trends of various world cultures including Eastern philosophy to which the composer had a particular inclination.
Bantoсk's Omar Khayyam poster
: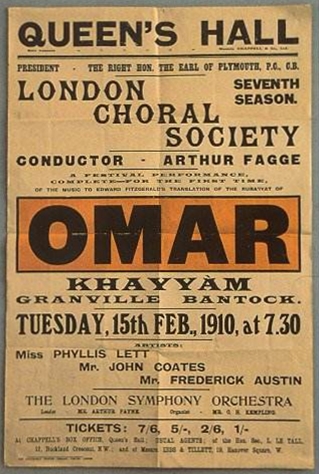 The most grandiose of Bantock's works on the Eastern theme was undoubtedly his orchestral setting of Edward FitzGerald's translation of Omar Khayyám poetry which, following the premiere in 1906, quickly acquired deserved popularity. 
Listen to Granville Bantock's Omar Khayyám, Pt. 1: Prelude performed by Norman Del Mar with BBC Symphony Orchestra:
Along with the studies of world cultures, the composer had a passion for his native folk music. Throughout his life, he produced a bulk of works based on the poetry, legends, and traditions of the peoples of the Scottish Islands, most notably the Hebridean Symphony, the Sea Reivers, the Seal-Woman, the Celtic Symphony, and Two Heroic Ballads.
Listen to Granville Bantock's Celtic Symphony performed by Walter Collins and London Promenade Orchestra:
Bantock's impressive achievements culminated into his receiving a knighthood in 1930 for his services to British music. It is fair to say that the list of Bantock's honors was surpassed only by that of his many friends and acquaintances which included not only fellow artists but many politicians and other prominent figures of the time.
Soon after Bantock's death in 1946, a leading English conductor Adrian Boult wrote:
"Surely there was never a musician who made more friends than GB".