Amoreena: Elton John's goddaughter named after the ballad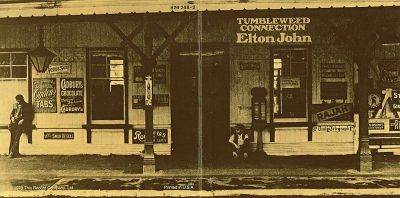 Tumbleweed Connection LP cover
Amoreena
is one of the best-known tracks from
Elton John
's 1970 album
Tumbleweed Connection
whose songs revolve primarily around American West themes. Indeed, the album's lyrics reflect the fascination of
Bernie Taupin
—Elton John's songwriting partner—with outlaws, sheriffs, and the great outdoors. Although the success of
Tumbleweed Connection
was impressive and its sales exceeded two million, none of its tracks became global hits.
Thematically, Amoreena is a spaghetti western-inspired ballad about lovers separated by circumstance. It tells the story of a man who left his country girl in the cornfield and has come to regret it. Besides, Amoreena is actually the name of Elton John's goddaughter as noted in the liner notes for the Tumbleweed Connection.
One story suggests that during the songwriting process, Bernie Taupin proposed the name as a charming choice for the baby girl that their manager, Ray Williams, and his wife were anticipating. The couple went ahead and named their daughter Amoreena. Unfortunately, Williams had a falling out with John and Taupin later on, and John never formed a relationship with his goddaughter.
Listen to Amoreena by Elton John:
Amoreena
has been covered by various artists such as 
Phish
. In the summer of 1997, Phish performed the song at Star Lake and it became a memorable opening for their show. The song also appeared in the opening scene of the 1975 Al Pacino movie
Dog Day Afternoon
.
Curiously, the name "Amoreena" has a connection to love, as "Amor" signifies love in many languages including the English word "Amorous."