Bennie and the Jets: the opening piano chord and disastrous recording sessions in Jamaica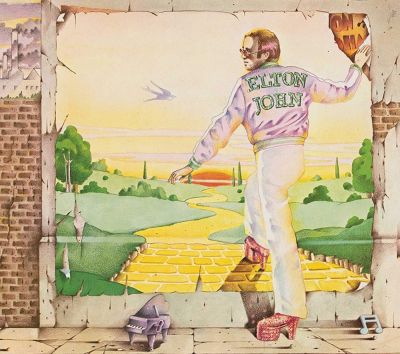 Goodbye Yellow Brick Road LP cover
Bennie and the Jets
is inarguably one of
Elton John
's most popular songs first released on the
Goodbye Yellow Brick Road
album in 1973. A year later, the track peaked at #1 on the US singles chart to the great surprise of Elton John and his co-writer
Bernie Taupin
 who had not planned to release it as a single feeling it lacked the potential to become a hit.
The highly satirical song lyrics take a few punches at the 
1970s
music industry and its flamboyant stage outfits backed by the novelty of stadium performances made possible by powerful electric equipment. The song describes a fan encouraging their friends to hang out at the concert of
Bennie and the Jets
—a fictional band penned by Taupin following his "science fiction idea about a futuristic rock and roll band of androids fronted by some androgynous."
Despite the fact that the recording features what appears to be a live concert audience, this is an all-studio track to which producer Gus Dudgeon added crowd noise and whistles from Elton John's performances as well as handclaps and various shouts recorded during post-production. The idea of ​​giving Bennie And The Jets a concert-like sound design came during the mixing process brought upon by an atypically long pause between the opening piano chord and the beginning of the song—a trick used by many artists to further engage the audience during live shows.
Listen to Bennie And The Jets by Elton John:
Curiously, Elton John originally planned to record the Goodbye Yellow Brick Road in Jamaica as an attempt to find a new relaxing atmosphere, but nothing good came of this venture. The guys got to the studio in the midst of a staff strike, and some of the equipment soon broke down so their studio time had little to do with a "good vibe". The recording budget dwindled quickly and the band, together with the producer, decided to escape to a castle in northern France where they had worked on their first two albums.