The art of Carnatic violin by Lalgudi Jayaraman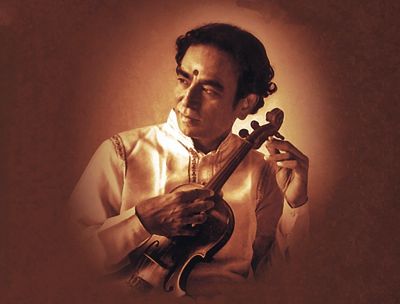 Lalgudi Jayaraman
Piece of Music:
Raga Sankarabharanam
Lalgudi Jayaraman
was an Indian violinist whose impeccable performing technique, coupled with his deep understanding of the canons of Carnatic classical music, allowed him to popularize the rich musical heritage of South India outside his homeland. He also left a significant mark on musical culture as a vocalist, lyricist, composer, and teacher of two dozen outstanding musicians in various
genres
.
The musical roots of Lalgudi Jayaraman's family go back to the 18th century when his great-great-grandfather performed with eminent master
Tyagaraja
who once visited their home. In keeping with the traditions of musical dynasties, Lalgudi Jayaraman began his studies at a very early age following the instructions of his father who developed a special intensive program for the boy to advance his many talents.
Jayaraman's entire career was filled with intense tours in India and in the West where his music was first presented at the Edinburgh Festival in 1965. On the eve of the festival, he was invited to visit the violin virtuoso
Yehudi Menuhin
where Jayaraman performed several
ragas
playing on Menuhin's Italian violin in place of his own instrument which Jayaraman had forgotten at the hotel. Fascinated by his technique, Menuhin asked him to play over and over, so Jayaraman performed seven ragas namely
Sankarabharanam
,
Hemavathy
,
Karaharapriya
,
Keeravani
,
Mohanam
,
Mukhari
, and
Suba Pantuvarali
. It was Menuhin who introduced Jayaraman's performance at the festival and subsequently gifted him with this Italian violin.
Listen to Sankarabharanam Ragam performed by Lalgudi Jayaraman:
Jayaraman is recognized as one of the finest violinists of Carnatic tradition to develop his own performing style known as Lalgudi Bani. As a composer, he was most successful in writing music in the varnam genre—short pieces that encapsulate the main features of a raga.