The fifth string of the Maihar school lead violin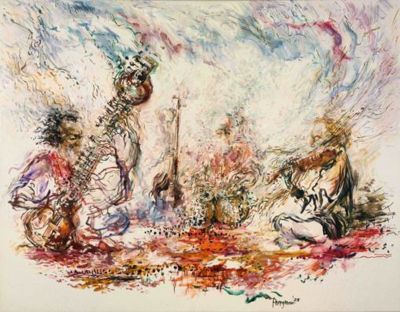 East meets West by Norman Perryman
Piece of Music:
Malgunji raag
For more than a century, the tiny town of Maihar—now the de facto cradle of the Indian Classical—has been breathing with music. Its iconic status was majorly fueled by the arrival of
Allauddin Khan
in 1918 whose disciples contributed to the flourishing both local and international recognition of their artform. 
It began in 1918, when Maharaja Brijnath Singh Jiu Deo, ruler of Maihar, brought Allauddin Khan from Rampur and appointed him as the court musician. 
Strictly speaking, Maihar Gharana (literally: Maihar school) was an already established scene, having existed under the patronage of previous maharajas, but Allauddin Khan made such an immense contribution that the school has been mostly attributed to him and his lineage thereafter. 
Ravi Shankar, Baba Allauddin Khan, and Ali Akbar Khan: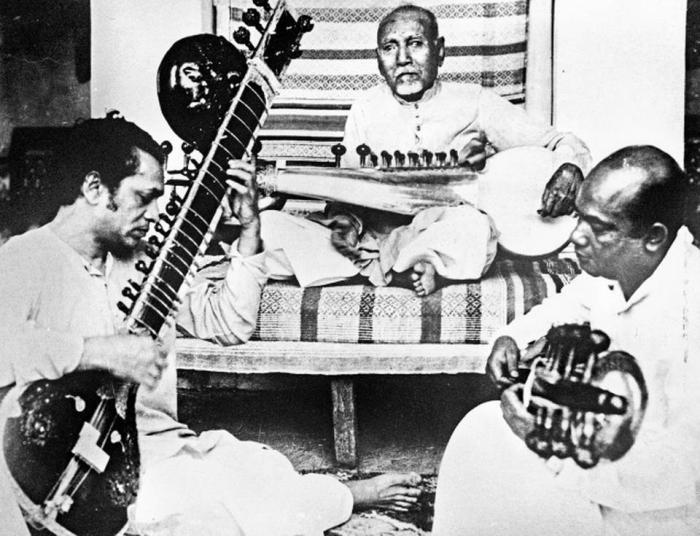 According to legend, when an epidemic broke out sometime in the 1920s, many children were orphaned and Allauddin Khan brought them together, taught them music and created an orchestra that adopted Western music style while implementing Indian instruments, making it the first of its kind. The orchestra, called Maihar Band, was often led with the violin played by the teacher himself.
Each artist from Maihar is musically unique. Not one plays like the other. It is also difficult to find another Indian music house that has produced maestros in sitar, sarod, surbahar, flute, violin, and guitar. 
Even with the great teacher Allauddin Khan passing on the mastery of violin onto his students, this particular instrument remained one of the rarest picks for the future Maihar generation to master.
One of these rare talents was Rabin Ghosh (1932–2010), a master-violinist renowned for his unique style of playing with an extensive use of micro-tone to imitate the Indian singing style.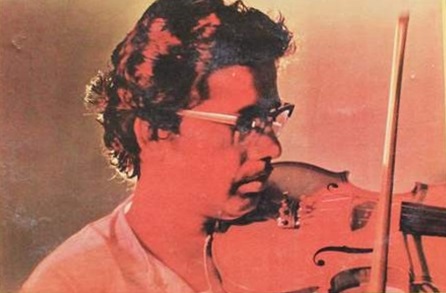 From a very early age, he was influenced by the musical atmosphere of his family, who supported his studying of esraj, flute, tabla, and violin. After training on both Western Classical and North Indian Classical Music, he became a regular performer in All India Radio recitals in Calcutta.
In the year 1955, Rabin Ghosh received an opportunity to play violin before Allauddin Khan himself, after which the great teacher was satisfied to accept Ghosh as his disciple.
In addition to his training under Allauddin Khan, Ghosh was appointed as a teacher of Maihar Government Music College. 
 
During his seven-year stay at Maihar, he experimented with different techniques on violin sound production and researched sitting posture which helped with the long duration of practice sessions. In his own words:
"I used to light a thick fragrance stick and would continue practice till it burned out totally".
Rabin Ghosh was also inspired to develop a five-string violin. The new design was necessitated by the need to access the lower octave to express the mood of some ragas.
Listen to Raag Malgunji performed by Rabin Ghosh:
Malgunji is a very melodious raga of the Khamaj Thaat—Hindustani classical music scale—which is equivalent to one of the standard major modes in Western classical: the Mixolydian scale.
This raga is also a broad base for Hindi film music composers. Famous masters such as RD Burman, Salil Chowdhury, Kalyanji Anandji and Madan Mohan wrote beautiful songs rooted in Malgunji raga.
One of the greatest Malgunji songs is Ghar Aaja Ghir Aye from the 1961 film Chhote Nawab (The Young King).
Watch the Ghar Aaja Ghir Aye sequence with Lata Mangeshkar providing the vocals: