Bésame Mucho: song meaning and source of inspiration behind the famous Mexican bolero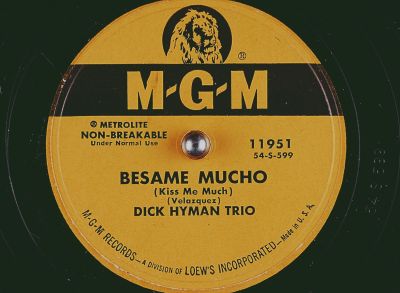 Besame Mucho by Dick Hyman Trio
Bésame Mucho
is one of the most famous songs in music history that has been tirelessly performed for the past eighty years by prominent opera singers and popular musicians of various
genres
. Its simple and charming Spanish lyrics were written and set to soulful music by Mexican pianist-songwriter
Consuelo Velázquez
when she was only sixteen.
The iconic phrase "bésame mucho" in the opening of every stanza translates to "kiss me a lot," and the very reason behind this desire lies in the singer's fears for the impending separation from their beloved, perhaps forever. So it's not surprising that the first wave of the song's popularity came in the early
1940s
 during World War II when women were waiting for any news of their husbands from the battlefront.
According to Consuelo Velázquez, the idea for the song's melody came to her during a performance of the piano piece
Quejas, o la Maja y el Ruiseñor
written by Spanish composer
Enrique Granados
. Indeed, the main motive to which the repetion of the words "bésame, bésame mucho" are set varies intensively in this work of Granados.
Listen to Consuelo Velázquez's Bésame Mucho performed by Trío Los Panchos:
Currently,
Bésame Mucho
is recognized as the most performed and recorded Mexican
bolero
, a genre of slow-tempo Latin music that originated in Spain in the late 18th century as a form of ballroom dance.