There were no bluebirds over the White Cliffs of Dover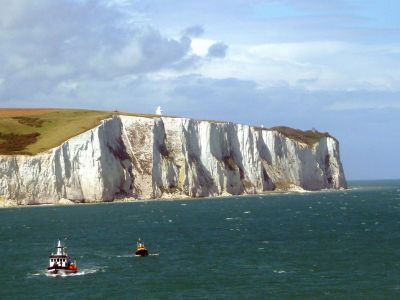 White Cliffs of Dover by Immanuel Giel
(There'll Be Bluebirds Over) The White Cliffs of Dover is an iconic song composed in 1941 by the American songwriting duo of Walter Kent and Nat Burton. First released in 1942 by Vera Lynn, it quickly gained popularity and still remains among the golden hits of the World War II.
The White Cliffs flank the port city of Dover with vertical precipices over 100 meters high, a solid wall of gleaming white that extends to both horizons.
To the English, the White Cliffs of Dover are not only beautiful, they are also deeply symbolic. The small city of Dover sits closer to mainland Europe than any other port of the British Isles. The cliffs are at the very edge of England, the place where home begins and the other world ends. 
The bluebirds of North and Central America feature in many American popular songs from the '20s onwards, signifying happiness and well-being. Nat Burton, the song's lyricist, was probably unaware that there are no bluebirds in England at all, since the species habitat is limited to the Americas.
But most likely the birds were meant as an allusion to the American pilots flying from English airfields: the allied planes had their underside painted sky-blue for camouflaging purposes, and this is where the resemblance originated.
The original version by Vera Lynn & Tony Osbourne And His Orchestra:
The song was covered by many artists over the years, most notably Connie Francis, Bing Crosby, Ray Conniff, and The Righteous Brothers.
The White Cliffs by the fabulous Glenn Miller & His Orchestra with vocalist Ray Eberle:
Curiously, in Western and Chinese cultures, a bluebird has been associated with happiness or luck even before the age of colonization, although the halo of the bluebird is limited to North America. Moreover, in Eurasia, there is not a single bird species with completely blue plumage and only a few species have a very partial blue color in their feathering.