Big Noise from Winnetka: timeless jazz melody born in a drum and bass jam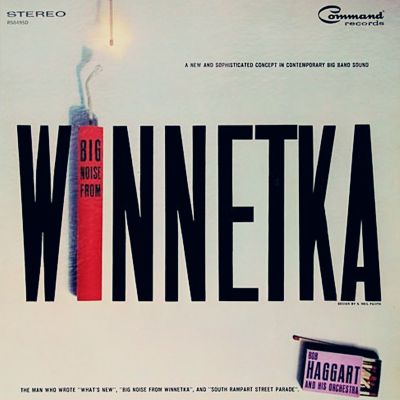 Big Noise from Winnetka LP cover
Big Noise from Winnetka
is one of the best-known jazz tunes of the
1930s
, first recorded by the Chicago-based band
The Bobcats
led by
Bob Crosby
. The notoriety of this simple melody persists to its day, largely due to its status as a popular cover tune. In the past decades, the song has graced the catalogues of multiple artists of various genres, be it disco or prog-rock, and was even added to the Marching Orchestras college repertoire.
Few people know that the song was born from a spontaneous improvisation between The Bobcats' bassist
Bob Haggart
and drummer
Ray Bauduc
at a Sunday show at Chicago's Blackhawk Restaurant in 1938.
That evening, WGN radio aired the
Bob Crosby Orchestra
's set, one of the most popular bands of the swing era with a lineup of around fifteen musicians. During the break, the audience continued to be entertained by a subset of the band known as The Bobcats who settled down to play right on the dance floor. At the end of the set, the dancing crowd was eager for an encore, so Haggart and Bauduc continued the jam with a bass and drum improvisation during which Haggart whistled the catchy melody, further exciting the audience.
The improvisation followed the popular song Big Crash from China, so Haggart ironically prefaced it with "this is for those big noises from Winnetka!" addressing the loudest group of fans who have come to the show from Winnetka, Illinois.
Listen to Big Noise from Winnetka (Remastered) by Bob Crosby & The Bob Cats:
​
Subsequently,
Gil Rodin
and Bob Crosby wrote the lyrics for this instrumental, transforming
Big Noise from Winnetka
into a song about a woman nicknamed Big Noise who "blew in from Winnetka," stole the hearts of local men, and soon left the town.