Caldonia: the song that spawned the term rock and roll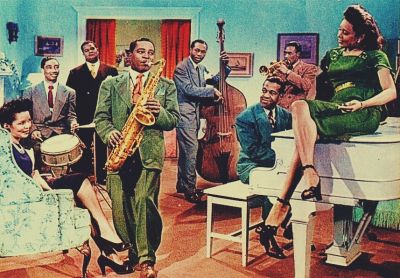 Caldonia Movie Poster
Caldonia
is a 1945 song released by
Louis Jordan
, an American songwriter and saxophonist whose popularity in the
1940s
and
1950s
earned him the bombastic nickname "The King of the Jukebox". The track, partially written in the jump blues genre, opens with an iconic bass line that served as the basis for hundreds of rock and roll songs following
Caldonia
.
Curiously, the first mention of the term rock and roll is related to
Caldonia
and appeared in Billboard magazine as a description of
Erskine Hawkins
' version recorded in the same year as the original.
Although the writing credits for Caldonia belong to Louis Jordan's wife Fleecie Moore, she did not write the lyrics and had no musical education. This practice of lending songs to someone else was common at the time as it allowed artists to work with multiple publishers at the same time.
Listen to Caldonia by Louis Jordan & His Tympany Five:
Following the multi-chart success of Caldonia, Astor Pictures produced a short musical film of the same name which was shown in cities where Louis Jordan concerts were expected. The film was also distributed as 'soundies' in coin-operated movie jukeboxes named the Panoram.