Renaissance music was written is Europe during the Renaissance era, approximately 1400 to 1600. 
Common sacred genres were the mass, the motet, the madrigale spirituale, and the laude. Secular vocal genres included the madrigal, the frottola, the caccia, the chanson, the canzonetta, the villancico, the villanella, the villotta, and the lute song. Purely instrumental music included consort music for recorder or viol and other instruments, and dances for various ensembles. Towards the end of the period, the early dramatic precursors of opera such as monody, the madrigal comedy, and the intermedio are seen.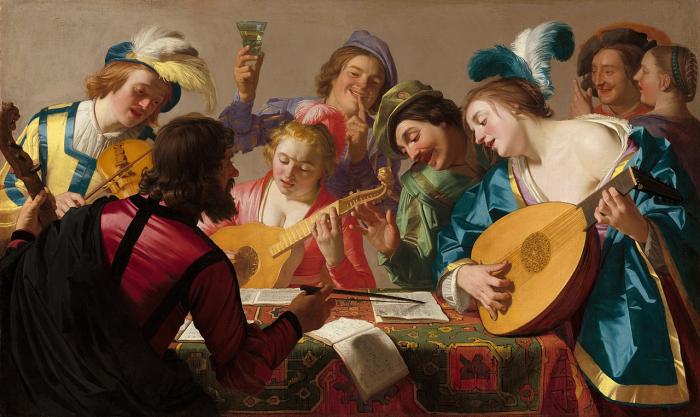 Familiar modern instruments (violin, guitar, lute and keyboards) developed into new forms during the Renaissance. Modern woodwind and brass instruments like the bassoon and trombone also appeared. 
Noted Renaissance Composers: Josquin des Prez, Giovanni Pierluigi da Palestrina, 
Thomas Morley, Thomas Weelkes, Andrea Gabrieli, Carlo Gesualdo, Luca Marenzio, Girolamo Diruta, Thomas Robinson, Arnold de Lantins.