The Catalan virtuoso was discovered by Albéniz in a cafe band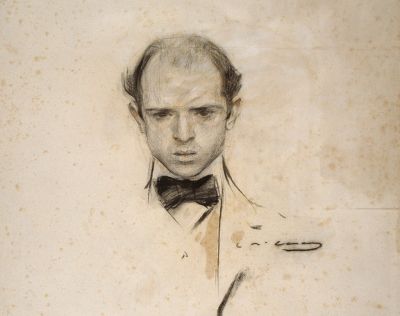 Pau Casals by Ramon Casas
Pablo Casals (1876—1973) was a Catalan cellist, composer, and conductor, known for his virtuosic technique, and skilled interpretation.
By giving his left-hand positions more flexibility and using unrestrained bowing technique of his own making, he created his individual style that stood out with its apparent effortlessness and fresh singing tone.
Among those impressed by Casals was the Spanish composer
Isaac Albéniz
, who heard him play in a band trio at a cafe. As a result of that lucky accident, Albéniz gave Pablo Casals a letter of recommendation to the private secretary of María Cristina, the Queen Regent, in Madrid. The letter did its trick, and Casals was asked to play concerts at the palace and also granted a royal stipend to study composition. 
Casals was a romantic who abandoned the dry interpretations of modernism that prevailed at the time. His love for the works of
J.S. Bach
formed the core of his sensibilities. He revitalized appreciation of Bach's cello music, especially with his masterful rendition of the
six solo suites for cello
. Previously these works were considered merely musical exercises, but Casals saw in them something deeper.
This admiration for Bach and desire to do the source material the justice it deserved motivated Casals to devote years to tireless studies and practice of the suites before he could render them worthy to present to the public.
This traditional Catalan lullaby El cant dels ocells (Song of the Birds) was made famous by Pablo Casals' instrumental version:
Contemporary virtuoso Yo-Yo Ma plays this piece as a tribute to the Pablo Casals: