Cuban guitar tradition of Leo Brouwer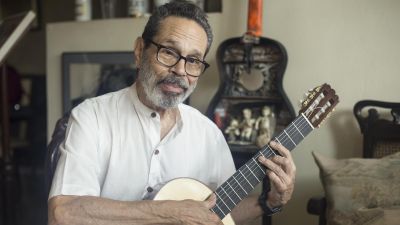 Leo Brouwer
Leo Brouwer has earned his legendary status as a contemporary composer for his extensive work in guitar music. He has imprinted his own style in a fusion of traditional Cuban music and avant-garde sensibility. Several generations of guitarists have now been brought up on his etudes. 
He was born in 1939 in a music-oriented family. His mother was a singer and multi-instrumentalist who performed on radio broadcasts while his father played flamenco and some classical guitar music entirely by ear. 
Leo gave his first performance at 17 and soon was composing music as well. His Prelude was written in 1956 followed by Fugue in 1959. 
Brouwer's varied output includes many works for guitar, percussion, piano, ballet and several orchestral pieces. He has also written music for more than 100 films, but his only true love remains classical guitar:
"Frankly, I realized guitar was so beautiful that I studied other instruments and rewrote their music for the guitar." 
His early compositions reflect Cuban influence and are strongly rhythmic while his later works veer towards a more minimalist style. Brouwer has also explored the possibilities of large-scale works for the guitar. He composed a piece utilizing an orchestra comprised of 200 guitarists.
Listen to Leo Brouwer perform Bach's Chaconne:
When asked about other kinds of guitar music that he personally enjoyed, Brouwer suddenly responded:
"I love heavy metal guitar. Heavy metal guitarists have no inhibitions and they play like gods. Compared to classical guitarists, rock and jazz guitarists are very open."
Beyond his compositional output, Brouwer has conducted some of the world's leading orchestras including the Philharmonic Orchestra of Berlin, BBC Concert Orchestra, Orchestra Nouvelle Philharmonic de Paris, and the Symphonic Orchestra of Madrid.