Devil's Trill Sonata: Giuseppe Tartini was unable to recreate Lucifer's music played in his dream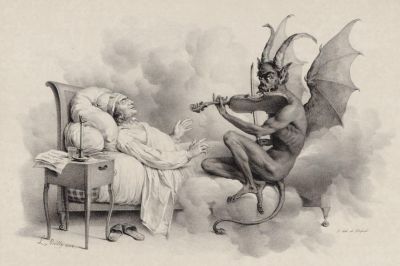 Tartini's Dream by Louis-Léopold Boilly
Despite its ominous title, the
Devil's Trill Sonata
is a gentle and peaceful
Baroque
piece for solo
violin
accompanied by figured bass. Being the most famous work of the Italian-Slovenian composer
Giuseppe Tartini
, the
sonata
contains rather difficult passages with languid
double stops
requiring great skill from the violinist.
Giuseppe Tartini himself explained that he received a creative impulse from a dream in which he had seen the Devil playing the violin with tremendous mastery, though the composer admitted that the musical content of the Devil's Trill Sonata did not resemble the tune performed by the Devil in his dream.
Born in one of the oldest aristocratic families in Piran, Giuseppe Tartini devoted his youth to study divinity and law, gaining only basic knowledge in music. He was also known as a  dueler and swordsman who had picked up a violin due to dramatic circumstances when he was forced to hide out in a monastery for fear of revenge by the powerful Cardinal Giorgio Cornaro whose bride Tartini married.
Although Tartini began his musical career only at the age of 20, in just a decade he managed to master an exceptional performing technique inspired by violin skills of his gifted contemporary Francesco Veracini in whose honor one of the asteroids is named.
During his life, Giuseppe Tartini wrote about 130
violin concerti
and sonatas but never dated his manuscripts, leaving musicologists to do a lot of work in determining the date of each composition. Fortunately, he did not forget to share the origin of his most significant work to the French astronomer Jérôme Lalande.
Here are excerpts from Lalande's Voyage d'un François en Italie regarding the Devil's Trill Sonata:
"One night, in the year 1713 I dreamed I had made a pact with the devil for my soul. Everything went as I wished: my new servant anticipated my every desire. Among other things, I gave him my violin to see if he could play. How great was my astonishment on hearing a sonata so wonderful and so beautiful, played with such great art and intelligence, as I had never even conceived in my boldest flights of fantasy. I felt enraptured, transported, enchanted: my breath failed me, and I awoke. I immediately grasped my violin in order to retain, in part at least, the impression of my dream. In vain! The music which I at this time composed is indeed the best that I ever wrote, and I still call it the Devil's Trill, but the difference between it and that which so moved me is so great that I would have destroyed my instrument and have said farewell to music forever if it had been possible for me to live without the enjoyment it affords me."
Listen to Giuseppe Tartini' Devil`s Trills Sonata performed by
David Oistrakh
and Frieda Bauer:
In addition to his contribution to the violin repertoire, Giuseppe Tartini published a couple of influential treatises describing the physical aspects of musical harmony and the art of ornamentation, as well as made design improvements to the instrument by lengthening the bow.