Early 1930s recordings of classical sitar by Enayat Khan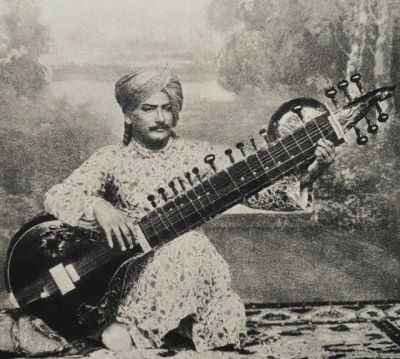 Enayat Khan
Enayat Khan
was an iconic musician of the early 20th century, representing the fifth generation of the
Etawah gharana
—one of the classical schools of Northern India associated with the popularization of
sitar
and
surbahar
. Known from the times of legendary
Mian Tansen
, the school was renamed
Imdadkhani gharana
in honor of Enayat Khan's father who had made history as
the first-ever sitar player to be recorded
.
After the death of his father in 1920, Enayat Khan appeared in Bengal where, under the patronage of the zamindar of Gouripur, he very quickly grew into a remarkable musician. Unfortunately, only a few details are known about the subsequent life of Enayat Khan, including his friendships and music collaboration with
Rabindranath Tagore
, the development of a new sitar design, and his early death in 1938 in Calcutta at the age of 43.
Despite the fact that the Kolkata branch of All Indian Radio began broadcasting in 1927, there are no recordings or evidence that Enayat Khan was among the musicians performing on the air. In this regard, only a dozen recordings made by Enayat Khan for Megaphone between 1930 and 1935 are available. The maximum length on these tracks is limited by 78 RPMs technology of the time and is a little over 3 minutes, giving the audience only an idea of ​​Enayat's playing technique but leaving them unaware of how an entire raga would have sounded.
Listen to Enayat Khan's performance:
Although Enayat Khan died when his children were very young, his relatives, including his brother Wahid Khan, ensured that his sons
Vilayat Khan
and Imrat Khan received the best possible training to brilliantly carry on the Imdadkhani Gharana family heritage.