The sitar virtuoso who introduced Indian classic to the British parliament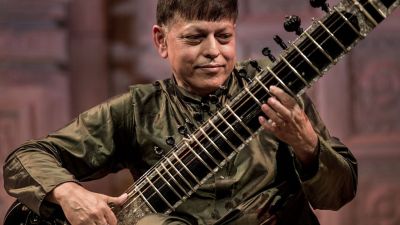 Budhaditya Mukherjee by James Morgan
Piece of Music:
Raag Mian Ki Malhar
Artist:
Budhaditya Mukherjee
Budhaditya Mukherjee
is one of the brightest virtuosos who to this day refines the rich legacy of
Hindustani classics
. Masterfully playing both the 
sitar
and
surbahar
, he has performed around 8,000 concerts worldwide and made history as the first Indian musician invited to perform in the British parliament.
Inspired by such iconic artists as
Nikhil Banerjee
 and 
Ravi Shankar
, Budhaditya polished his performing technique by studying under the legendary
Vilayat Khan
from whom he also learned to develop his unique sitar design that defined its signature sound.
Budhaditya Mukherjee was born in 1955 in the industrial city of Bhilai into the family of a general manager of the Bhilai Steel Plant. In addition to his technical profession, Budhaditya's father had musical talents both as a vocalist and performer of many instruments including sitar,
sarod
, and
sarangi
. Budhaditya's creative abilities began showing at the age of five which led to his father giving him initial training and then providing him with lessons from the legendary guru Vilayat Khan—a sitar maestro of the
Imdadkhani
gharana
.
Despite the obvious musical successes of Budhaditya who was proclaimed a "sitar artist of the century" when he was only fifteen, his father insisted on his pursuit of engineering education. However, after obtaining a degree, Budhaditya never took advantage of this profession.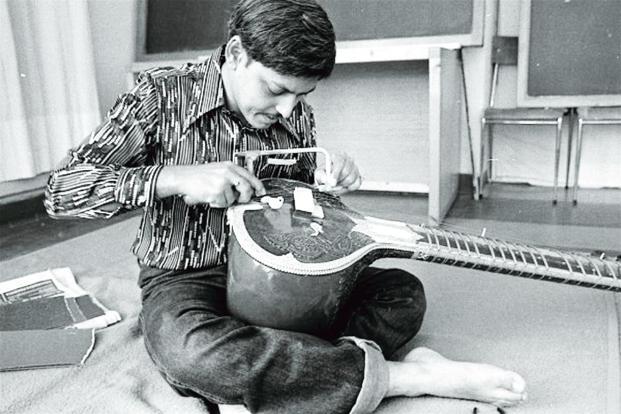 At the age of twenty, in addition to his regular recitals, Budhaditya began classical performances for All India Radio broadcasting, becoming a top grade artist in 1986. At around the same time, he worked hard to create a special shape for his sitar, one that would be capable of meeting the growing demands of his high-speed technique:
"I changed my sitars nine times in the first 20 years of my career as I was crazy about the sound of the instrument. I was always looking for the sound of the sitar of Ustad Vilayat Khan. I tried many sitar-makers but did not get it. Then I decided to make my own instrument. And I am happier to be able to express my musical desires more aesthetically."
During his extensive career, Budhaditya played the Hindustani classics in more than thirty countries, among which he highlights his performances at the Australian Bicentenary in 1988 and at the British Parliament in 1990.
He received flattering feedback from a British Labour Party politician Keith Vaz:
"As you may well know, this is the first performance of its kind in the House of Commons and undoubtedly a historic moment in British Parliament. I am exceptionally pleased that this historic moment was met with such a masterful and exquisite performance by you."
Watch Budhaditya Mukherjee play Raag Mian Ki Malhar during a thunderstorm:
Like many other prominent masters, Budhaditya Mukherjee is very concerned about the lack of attention from the current Indian government to both the classical scene and music education system as a whole, with the latter not even providing the classical harmony in basic classes. For his part, the maestro tries to fill these gaps by developing a new instrumental style based on the old vocal art called tappa, as well as teaching musical skills to his students.