Vilayat Khan enriched his sitar technique by giving it human voice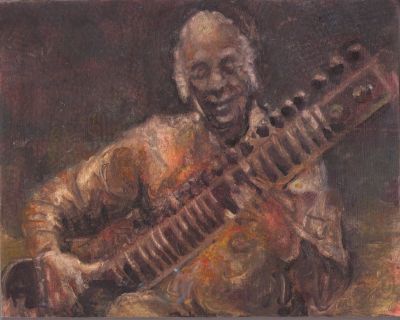 Vilayat Khan by Berry van Boekel
Piece of Music:
Khamaj Raag
Brilliant sitar player Vilayat Khan is broadly known in India and worldwide as a prominent maestro of the Hindustani tradition who developed a unique technique mimicking the sound of the human voice—gayaki ang.
The musical roots of his family were laid down in the 19th century by Vilayat's skillful grandfather Imdad Khan in honor of whom the leading sitar and surbahar school Imdadkhani gharana was named.
Continuing the family tradition, Vilayat's father Enayat Khan made the sitar one of the most popular classical instruments on the Indian subcontinent, contributing to the ever-growing repertoire and also intensively working on the instrument's design. Most notably, he standardized sitar dimensions and added the upper resonator gourd which is still highly popular with modern musicians.
Vilayat Khan, born in 1928, was only ten when his eminent father passed away, though not before introducing his son into the rich musical legacy of the family. Initially, Vilayat wanted to be a singer, but his mother—herself a magnificent vocalist—felt he had a strong responsibility to continue the family tradition as a sitar player.
Having spent his formative years in Calcutta, Vilayat eventually decided to leave home in order to further expand his musical horizons. Swearing to return only as an accomplished musician, he boarded a train to Delhi and reached his destination to All India Radio where the station director recognized him as Enayat Khan's son and gave him refuge in the station's garage.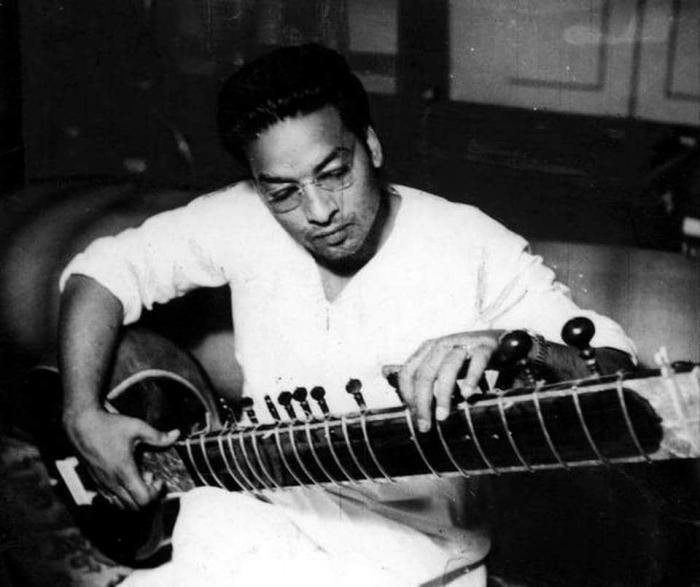 Working as a musician on broadcasts, Vilayat was delighted to absorb different techniques by the eminent artists from the various India regions.
In the 1940s he moved to Bombay where he first encountered relative fame by working in the film industry. During these years he also toured India as a regular participant at prestigious festivals and private concerts. At the same time, another sitar genius,
Ravi Shankar
, was making a mark too. Even though they used different sitar designs, both musicians had tremendous respect for each other.
In the 1950s Vilayat and Ravi worked closely with instrument makers to further develop their sitars in different directions which reflected on their divergent playing styles. Whereas Ravi's sitar was intended for playing across multiple registers using a few melody strings, Vilayat's instrument was a bit smaller, with a cleaner sound, which perfectly assisted his impressive playing speed. 
Ravi Shankar and Vilayat Khan
: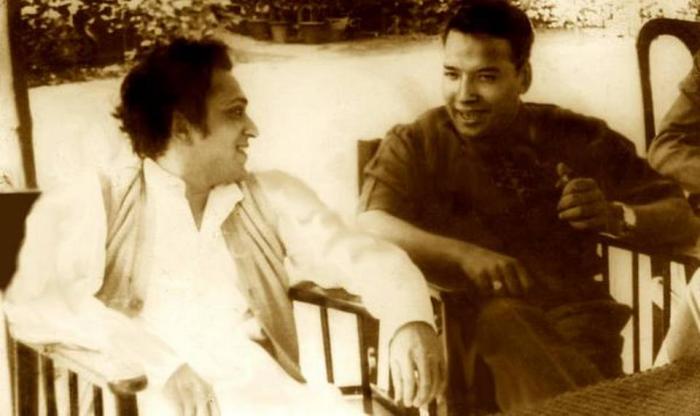 Starting in the
1960s
, Vilayat Khan made Shimla his home from where he travelled for concerts all over the world. Rumored to be the most-paid Indian classical musician, he had a rock star type of image going for him, supported by unique sounds elicited from his sitar.
During his recitals, along with classical ragas, Vilayat also played folk tunes while singing along to encourage his sitar to follow suit—the same technique was used by Western guitar virtuosos including Jimi Hendrix.
Having composed tremendous ragas and scores for popular films, he was never conservative in his musical tastes and often played blues and jazz records with great relish.
He died of lung cancer in 2004.
Listen to Vilayat Khan play Raga Khamaj in Berlin:
Through the beauty of its melody, Khamaj raga is considered a romantic one which is generally performed at midnight. Although the raag is used in classical music, its gentle spirit makes it much more appropriate to the lighter styles such as bhajan, thumri, and ghazal. 
Khamaj raga
belongs to the
Khamaj Thaat
—Hindustani classical music scale—which is equivalent to one of the standard major modes in Western classical: the
Mixolydian scale
.