Electronic jazz achieves ambiance with exotic Swiss-made drum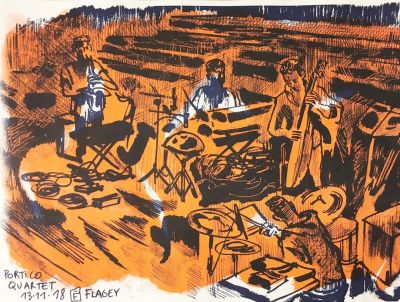 Portico Quartet by FLAGEY
The Portico Quartet is a contemporary jazz and ethnic fusion ensemble from South London. The band is known for their use of the Hang, a modern instrument that still remains quite exotic. 
The Hang, invented in 2000 in Switzerland, is a metallic lap drum with clamped shells, the melodious sound of which resembles both a steel drum and Balinese metallophone.
Where the quartet's influences clearly reference modern jazz and African music, the trance-like sonics of the Hang resonate with minimalism evocative of 
gamelan
music and the works of 
Philip Glass
.
Portico's sound, in the words of the band's saxophonist and keyboard player Jack Wyllie, falls between many genres:
"...Jazz, electronic music even minimalism in places, but naturally it's an amalgamation of everything we've listened to". 
Listen to Portico Quartet's Spinner:
Expanding sound to embrace electronics was a natural progression in an age where integrating samples, effects, and real-time looping comes as a given to many musicians. Throughout their creative process, Portico Quartet successfully maintains an authentic acoustic core magnified by skilled electronic manipulation.
Wyllie explains their approach: 
"(...) we were trying to find ways of going beyond the sounds of our own instruments, for me that was using effects pedals and then looping it (...) So you get that warm acoustic feeling but you also have digital manipulation."
Check out Portico Quartet's 
Endless
on
SoundCloud
.