Ellington's classic song established swing as a jazz form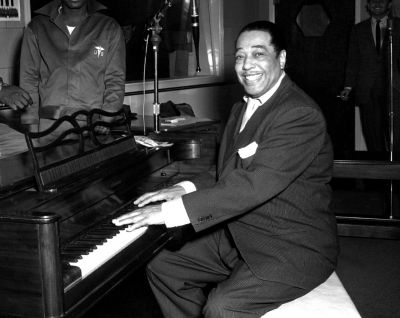 Duke Ellington
It Don't Mean a Thing (If It Ain't Got That Swing) is a 1931 composition by Duke Ellington with lyrics by Irving Mills, now accepted as a jazz standard. The title can be read as a manifesto against the intellectual culture of these times. 
The music was written and arranged by Ellington during intermissions at Chicago's Lincoln Tavern and was first recorded at Brunswick Records. Ivie Anderson sang the vocal while trombonist Joe Nanton and alto saxophonist Johnny Hodges did the instrumental solos. The title was based on the life motto of Ellington's trumpeter Bubber Miley, who was dying of tuberculosis. 
The song gained fame and lifted Ellington from a sole bandleader to a composer. Ellington himself described his song as:
"the expression of a sentiment which prevailed among jazz musicians at the time." 
Probably the first song to use 'swing' in the title, it introduced the term into the jazz language and presaged the Swing Era for years. The Ellington's band performed the song throughout their career and recorded it numerous times.
Here is the original recording:
There have been countless interpretations of this American classic. Some of the more popular renditions are by Lionel Hampton, Chuck Brown, Mel Tormé, Diane Schuur, Louis Armstrong and Tony Bennett.
Here is the superb cover by Lady Gaga and Tony Bennett: