Take 'A' train jazz standard originated from Duke Ellington's letter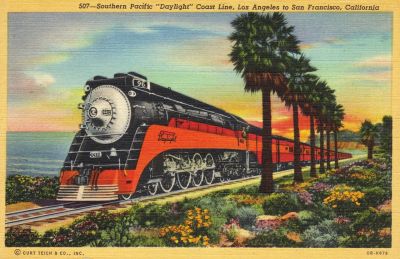 Daylight Limited
Take the 'A' Train is a Billy Strayhorn composition that became a signature tune of the Duke Ellington Orchestra and is one of the most famous compositions of the swing era.
In 1939,
Ellington
offered Strayhorn work and sent him money to make the trip to New York City from Pittsburgh. Ellington also instructed Strayhorn to take the 'A' train upon arriving to New York City – the train from Eastern Brooklyn into Harlem and Manhattan. Strayhorn recalled that the song came to him with very little effort, he said it was "like writing a letter to a friend".
The use of a song that is not Ellington's own composition was due to a ruling by the American Society of Composers, Authors and Publishers, which raised the licensing fees of broadcast use of compositions by its members. The bandleader fought back the ruling by hiring a number of composers from the rival rights organization Broadcast Music, Inc. to write a whole new set of songs.
The fact that Ellington used the song as his orchestra's opening theme, making it his signature song, says a great deal about it and his appreciation for Strayhorn. Ellington wrote in his autobiography that Strayhorn "was my right arm, my left arm, and the eyes in the back of my head."
Here is the awesome version by Walter Maynard Ferguson, a Canadian jazz trumpeter: