English Idyll through the eyes of the Lost Generation hero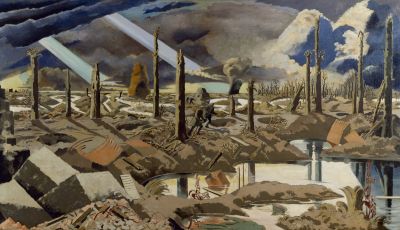 The Menin Road by Paul Nash
Composer:
George Butterworth
Promising English composer George Butterworth appeared to show no interest in writing symphonic music, instead preferring rhapsodic style based on folk tunes in the manner of Vaughan Williams' Norfolk Rhapsodies. 
At the turn of the century, a number of musicians were finding interest in preserving traditional songs and dances which had predominantly been passed on in the oral form. They feared that this national heritage would be lost in the increasing popularity of gramophones and sheet music. Before the first World War, Butterworth had already become close friends with
Ralph Vaughan Williams
, a leading figure in the folk revival of the time, who inspired Butterworth to begin his collection of folk material. Comprised mostly of folk songs and dance tunes, it eventually accumulated to more than 450 pieces. 
Soon after the outbreak of war, George enlisted in the Duke of Cornwall's Light Infantry and was later granted a commission in the Durham Light Infantry. He was in active service for almost a year and mentioned in dispatches for action in July 1916 for which he was awarded the Military Cross. Less than a month later he was shot through the head by a German sniper. 
In his letter of condolence to the Butterworth family, his commanding officer wrote very highly about George:
"[George was] one of those quiet, unassuming men whose path did not appear naturally to be a military one (...) When the offensive came he seemed to throw off his reserve and, in those strenuous 35 days in which we were fighting off and on, he developed a power of leadership which we had not realised he possessed." 
After the death of the previous commanding officer, Butterworth was left in charge of digging a trench under heavy German fire. This trench was subsequently called the Butterworth Trench on all the official maps. In the same letter, he is described as being:
"...cheery and inspiring his tired men to secure the position which had been won earlier in the night. Within a minute of my leaving him, he was shot."
Butterworth's reputation as a composer rests on three or four orchestral works, the two sets of Shropshire Lad songs and very little else. Nevertheless, this small but distinguished body of work has secured a place for him in the history of English music which will be forever linked to that Lost Generation.
Sir Adrian Boult with London Philharmonic Orchestra performs English Idyll no.1: