The ever-evolving legend of Coriolanus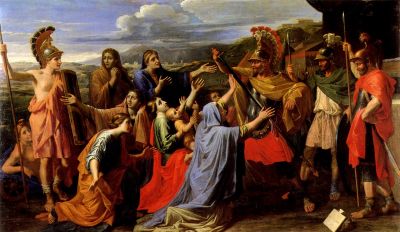 Coriolan supplié par sa famille by Nicolas Poussin
The Coriolan Overture, written by Ludwig van Beethoven, is an adaptation of Heinrich Joseph von Collin's tragedy Coriolan.
The story, based on the life of the Roman leader Caius Marcius Coriolanus, was first popularized through Shakespeare's play Coriolanus, and since then has seen many adaptations, including contemporary versions such as the 2014 National Theatre Live production with Tom Hiddleston and the modern warfare reimagining in the 2011 film directed by and starring Ralph Fiennes.
In the plays, both Shakespeare and Collin depict the legendary Roman patrician at the time of his banishment from his native city as a result of his lack of concern for the starvation of the people. After taking up with the Volscians and plotting revenge, the disgraced and humiliated Coriolanus leads the armies against Rome.
Upon reaching the border, he is approached by emissaries who plead with him to abandon his invasion. Their pleas, however, fail to move Coriolanus who has long waited to avenge his exile. Before the inevitable attack, Rome is awarded its last hope for salvation, when the mother and wife of Coriolanus reach him with pleas to desist. Realizing that his own family now finds him abhorrent, he is finally dissuaded from carrying out his plans.
In Heinrich Joseph von Collin's play, Coriolan then determines that he must regain his honor which can only be achieved by death at his own hand.
The structure and themes of Beethoven's Overture follow Collin's very generally: the main C minor theme represents Coriolan's vengeful spirit and thirst for violence, while the more tender E-flat major theme reflects the compassionate voices of his mother and wife.
The Coriolan Overture
is one of Beethoven's most frequently performed and recorded orchestral works. It acquired unique depth and energy in the performance by
Berliner Philharmoniker Orchestra
conducted by
Herbert von Karajan
, who developed his own culture of presentation, distinguished by the balanced clarity of sound and near-perfect virtuosity.
Watch the fragment of Karajan's timeless performance:
Listen to the full version here: