Beethoven was inspired by Goethe's rhythmic poetry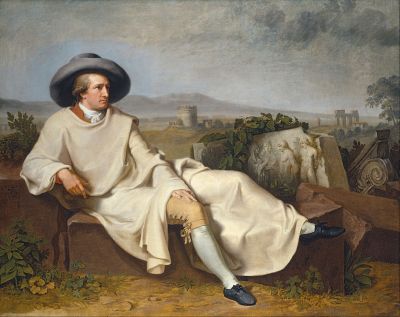 Goethe in the Roman Campagna by Johann Heinrich Wilhelm Tischbein
From 1809 to 1810, Beethoven composed the overture to Goethe's play Egmont, depicting the life of the count of Egmont, a Flemish aristocrat who was executed as part of the conspiracy in 1567.
Beethoven was a great admirer of Goethe, though he failed to complete the music by the time the play was given its premiere. Only at the third showing of the play on June 1810 was Beethoven's music heard for the first time. 
In a letter to Goethe, Beethoven's friend Bettina von Brentano described the composer's passion with Egmont, writing that he had told her: 
"Goethe's poems exert a great power over me not only by virtue of their content but also their rhythm; I am put in the right mood and stimulated to compose by this language, which builds itself into a higher order as if through spiritual agencies, and bears within itself the secret of harmony."
Here is a sixteenth-century historical drama describing the power struggle between the Count of Egmont and the Duke of Alba for the freedom of the Netherlands.
Herbert von Karajan
with Berlin Philharmonic:
Hugh Wolff leads the New England Conservatory Philharmonia in a performance of Beethoven's Egmont Overture:
SoundCloud
link.