Farewell to Stromness: the protest tune that fell into national consciousness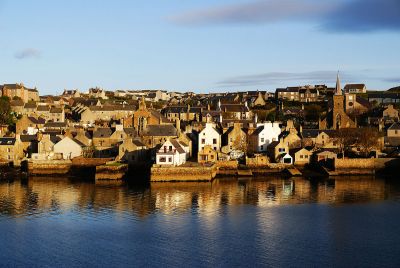 Stromness, Orkney Islands by Geoff Wong
Composer:
Peter Maxwell Davies
One of the most respected composers of his generation, Peter Maxwell Davies (1934–2016) bridged medieval and contemporary music with often-challenging compositions, though his style softened in his later years.
His best-known piece Farewell to Stromness is a wistful piano interlude from a 1980 work The Yellow Cake Revue written in response to a proposal for uranium mining near the composer's home.
The piece isn't particularly indicative of his music overall, but it is certainly among his most immediately accessible and most enchantingly simple melodies.
The composer himself recognized this:
"My little piano piece Farewell to Stromness has almost become a folk tune. People just say, 'I like that piece,' and they don't know who wrote it. It gets played an awful lot at funerals these days. And that's very unusual, for a so-called serious composer, to write a piece that people like so much, and they don't care who it's by."
The slow, walking bass line that pervades the Farewell portrays the residents of the village of Stromness having to leave their homes as a result of uranium contamination. 
Listen to the guitar transcription by Graham Anthony Devin: