Fernando Sor: the Beethoven of the guitar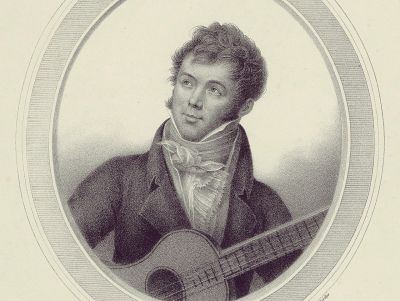 Fernando Sor
Spanish composer Fernando Sor was probably the most well-known guitar player in what has since been dubbed the First Golden Age of the Guitar. Sor traveled throughout Europe, capturing the public mind with previously unseen unique guitar techniques. After his death, the instrument fell into obscurity again for almost two generations, and Fernando Sor was almost forgotten.
In the early 19th century—when the guitar was regarded as a tavern instrument—Fernando Sor set in motion the quest to raise it to the greatest musical level possible. He paved the way for
Andrés Segovia
who much later brought the guitar to new heights of popularity and respect it still enjoys today.
Sor's musical style derives largely from the works of 18th-century German masters, showing a tendency to move away from chord textures that had been the guitar music default up to that point. Apart from being an excellent composer, Sor was also a performer of the highest caliber and technical ability. His talent was in such high demand that it required him to tour Europe and Asia, even performing for many esteemed nobility figures. 
In fact, Sor loved the guitar so much that he spent the last years of his life passing on his knowledge of the instrument, not only for generations to come with his method book, but also personally through private lessons. 
In 1826, Sor began publishing a series of works. One of his most notable compositions, Variations on Marlborough Goes to War, refers to the English military genius John Churchill, the first Duke of Marlborough, whose many victories included the one over France under Louis XIV. 
Sor used guitars produced by famed French luthier Pierre René Lacôte. One of Sor's Lacôte guitars with his signature is displayed at the Metropolitan Museum. 
In his guitar guide, Sor mentions:
"The guitars to which I have always given the preference are those of Alonzo of Madrid, Pagès and Benediz of Cadiz, Joseph and Manuel Martinez of Malaga, or Rada, successor and scholar of the latter, and those of M. Lacote of Paris. I do not say that others do not exist; but never having tried them, I cannot decide on that which I have no knowledge."