The major chapter of guitar history introduced by María Luisa Anido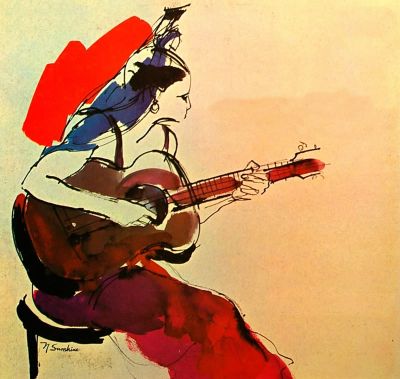 A Spanish Guitar Recital album cover
The exceptional Argentine guitarist, composer and teacher María Luisa Anido played a crucial role in the expansion of the classical guitar as the leading chamber instrument of the 20th century. Being especially adored in Europe, Japan, and Cuba, she toured worldwide with an exquisite repertoire, reaching the glory of a national hero in her homeland.
With her career as a musician, Anido linked many iconic names of the guitar world, such as
Miguel Llobet
who taught her in the early years and
Andrés Segovia
who became her friend. She played an antique guitar made by the great luthier 
Antonio de Torres
for the unrivaled Spanish maestro
Francisco Tárrega
.
Isabel María Luisa Anido González was born in 1907 in Morón in the province of Buenos Aires. She was the fourth daughter of Betilda González Rigaud and Juan Carlos Anido, an excellent guitarist and musical enthusiast who founded the magazine La Guitarra in 1923.
It was her father who gave María Luisa her first music lessons at the age of 5, afterward providing her with excellent teachers, among them prominent Spanish virtuosos Domingo Prat and Miguel Llobet—both Francisco Tárrega pupils. Since María Luisa was only 11 when she gave her first big concert in the Buenos Aires salon La Argentina to great success, her father often accompanied and supported her on early tours in Argentina and Uruguay.
Guitarists Miguel Llobet, Emilio Pujol, Juan Carlos Anido, María Luisa Anido, and Domingo Prat
: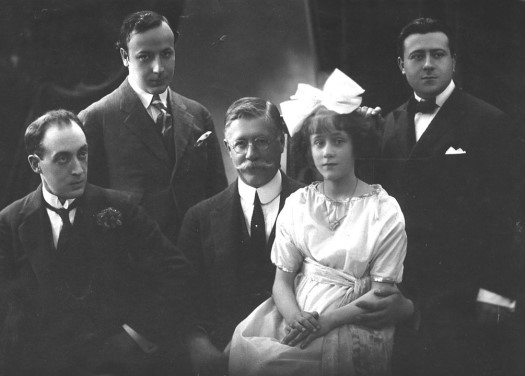 After her first triumph, María Luisa received—as a gift from her father—the legendary instrument which was made in 1864 by Spanish guitarist and designer Antonio de Torres for prominent maestro Francisco Tárrega. This magnificent guitar can be heard on most recordings by María Luisa.
Constantly improving her technique and touring both as a solo artist and as the guitar duo member (with her teacher Miguel Llobet), María Luisa acquired the deserved nickname "first lady of the guitar," although their duo is also considered to be one of the most prominent in the world.
Anido's concert in el Salón La Argentina
: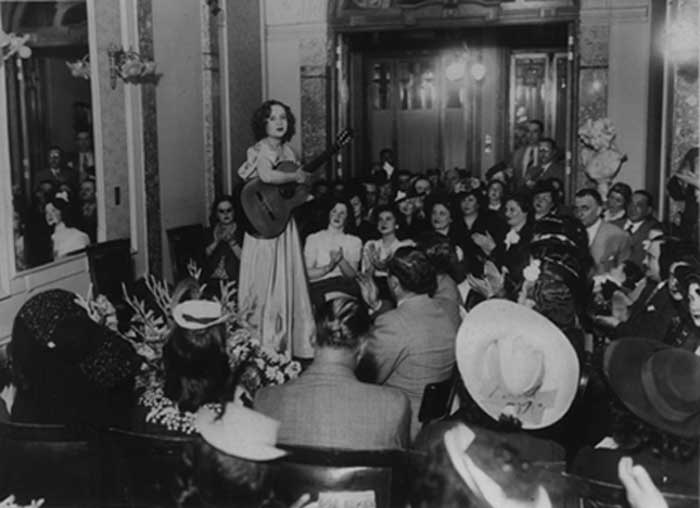 After her father's death in 1933, María Luisa greatly reduced her concert activities to focus on private lessons and teaching at the Conservatorio Nacional de Música de Buenos Aires. Her concert career resumed after her mother died in 1950. After leaving the teaching practice, María Luisa spent the next two decades in the endless tours in Europe, America, and Asia.
Her life was an ongoing artistic pilgrimage and her long tours were always supported by the admiration of the audience and standing ovations. María Luisa was praised by critics for her fantastic technique and deep musicality, while some officials also paid special attention to her.
Listen to
Fernando Sor
's 
Andante Largo
performed by María Luisa Anido:
By the mid-
1970s
, Anido began to find life in Argentina too tense and, in view of the political situation at home, she decided to settle in Spain. After spending some time in
Palma de Mallorca
, she appeared in Barcelona giving lessons and concerts.
She also had a Cuban segment of her life in the
1980s
when, at the end of the decade, she settled there for several years to fulfill her childhood dream of living on the island and doing art. Here she worked at the government's invitation, collaborating closely with the brilliant Cuban composer and guitarist
Leo Brouwer
.
Listen to María Luisa Anido play Foi boto sinhá by Brazilian composer Waldemar Henrique:
As a composer, Anido has created many works throughout her life, but it is considered that her most important contribution is the flawless technique as well as a huge number of outstanding pupils and followers.
She died in 1996 in Tarragona, Spain.