Four continents come together for Manu Chao's Clandestino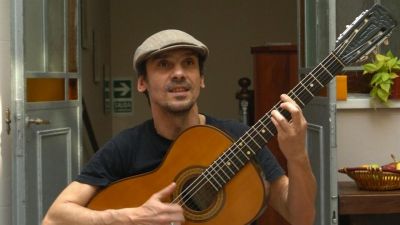 Manu Chao
In Latin America and Europe, this guy is virtually an icon who seems to have taken the role of Bob Marley. Manu Chao is a wandering artist who for years never had his own place, staying forever on the move, as though addicted to the travel itself. He was born in Paris to Spanish parents, growing up to the sound bolero at home and rock'n'roll in the streets.
It is now two decades since Manu Chao released his highly popular Clandestino album. At the cross-fade of the millennium, it sounded perfect: a mix of simple acoustic sound and bare vocals, underlined by the clear message to all minority groups in the darkest parts of European and South American reality. 
"Clandestino was the result of that time (...) I didn't know I was making a record. It was pure therapy."
Light and transparent arrangement of the album came about almost by accident after the intended electronic beats had been lost. It was this happy misfortune that drove Manu Chao the give the whole album this clear acoustic sound, almost folk-ish, which is decidedly one of the main factors the album did so well at all, even in the top charts.
Like most of Manu Chao's work, the album includes songs not only in Spanish and English, but also in French, Portuguese and even Arabic. The title song Clandestino is in Spanish and deals with the issue of immigration: 
"I wrote it about the border between Europe and those coming from poorer nations."
Here is Manu Chao's Clandestino in collaboration with musicians from four continents:
The album version of the song: