Gimme Three Steps: the bar where Lynyrd Skynyrd's frontman almost got shot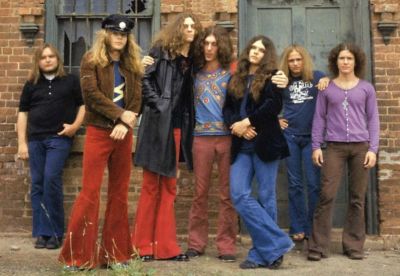 Lynyrd Skynyrd CD cover
Gimme Three Steps
is the best-known track from the 1973 debut album by American rock band
Lynyrd Skynyrd
. The first-person song lyrics tell a somewhat formulaic story of how the narrator was nearly shot in a bar by a jealous man.
There is some evidence that the song is based on a true story that took place in a bar in Jacksonville, Florida, where frontman
Ronnie Van Zant
was twisting with a girl who came over and wanted him to dance. According to one of the eyewitnesses, guitarist
Gary Rossington
, the band wrote the song right after the incident on their drive home.
The second line of Gimme Three Steps lyrics mentions The Jug—a reference to The Little Brown Jug bar, by now nonexistent. However, Rossington stated that The Jug was only used to rhyme to "rug" while the true location of the incident was the West Tavern, now known as The Pastime Tavern.
Listen to Gimme Three Steps by Lynyrd Skynyrd:
There is speculation that a "forty-four" gun, implying the .44 Remington Magnum, appears in the song also solely for rhyming purposes, in this case, to go with "door" and "floor," as in reality Ronnie Van Zant was threatened with the .38 Smith & Wesson Special.